Quotes
I think we have a good chance of surviving long enough to colonize the solar system. ~Stephen Hawkings
It's not going to do any good to land on Mars if we're stupid. ~Ray Bradbury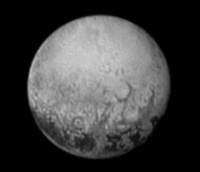 Colorado-New Horizons-Pluto
New Horizons' connections to Colorado's aerospace industry and educational community are extensive.
Alan Stern,
the
principal investigator
of the
New Horizons
mission to
Pluto
, received his doctorate from University of Colorado-Boulder in 1989.
When Stern was a CU grad student, he, Fran Bagenal, and a group of fellow researchers banded together to form what was later called the Pluto Underground. In the late 1980s they pushed NASA to support a mission to explore Pluto, and in the early 2000s Stern helped rally support for the project after NASA attempted to kill the mission.
Crucial components
were built in Colorado
, including key instruments such as the suite of high-resolution image detectors that took pictures of Pluto's surface. The instrument package, named "Ralph," was built by Ball Aerospace, which is based in Boulder, and serves as the probe's eyes and helps scientists learn about Pluto's geology, atmosphere, and temperature.
The Atlas V rocket that launched New Horizons on its way was built by Lockheed Martin Space Systems, which is based south of Denver. Custom Microwave, a small company in Longmont, developed a special coating used to protect instruments from radiation and light.
Two University of Colorado professors were involved in the mission: Fran Bagenal is a New Horizons co-investigator who leads the New Horizons Particles and Plasma Team and is a faculty member in the department of Astrophysical and Planetary Sciences, and physics Professor Mihaly Horanyi of CU-Boulder's Laboratory for Atmospheric and Space Physics, led a team of students that designed and built the Student Dust Counter instrument for New Horizons.

Scientists learned that Pluto has mountains but Colorado's mountain are higher!

Holmes Trial
The jury will be required to make three more decisions during the penalty phase of the Aurora Theater Shooting Trial. Aggravating Circumstances: The Prosecution has already shown numerous examples of premeditated murder. Mitigating Circumstances: The Defense will point out Holmes' mental illness made him do it. Victim Impact: There might be weeks of testimony about how lives were changed because of the damage done by the convicted murderer. The jury will vote after each of the three issues, whether to go on to the next issue. The decision will then go to the Colorado Supreme Court for review. The trial judge,
Carlos Samour Jr., will then make the final decision- Death or Life in Prison.
Update

The jury is taking much longer to deliberate the Aggravating Circumstances issue than either the Prosecution or Defense anticipated, thus putting the schedule behind. It looks like the penalty phase is going to be hotly debated and take longer than expected.

Heard on the Street

I used to like my neighbors, until they put a password on their Wi-Fi.

Never argue with a fool, they will lower you to their level, and then beat you with experience.
If practice makes perfect, and nobody's perfect, why practice?
Comments
Leave your comments in the section below (or not).