Quotes
Woman begins by resisting a man's advances and ends by blocking his retreat. ~Oscar Wilde
Bigamy is having one wife too many. Monogamy is the same. ~Oscar Wilde

Holmes Trial Update
Enough has been said about the trial, summations, opinions, and guilty verdicts. Words fail me to add more. The sentencing phase and appeals will follow and we will be compelled to comment on them.

Oscar Wilde Visits Leadville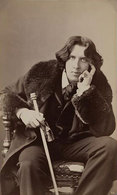 October 16, 1854 in Dublin, Ireland, Oscar Fingal O'Flahertie Wills Wilde came into the world. He excelled academically through his school years, and graduated from Oxford. He was a poet and playwright. his best known works are
The Importance of Being Earnest and
his only novel
The Portrait of Dorian Gray.
Wilde became a celebrated (and dandified) writer and lecturer in England.
In 1883, Wilde's handlers arranged a lecture tour for him in America. He gave 140 lectures in 260 days. His tour took him to Leadville, Colorado, a town at 10,200 feet of elevation, and at that time a population of 30,000 recently arrived residents. It had a reputation as the toughest town on earth.
His lecture was scheduled for the Tabor Opera House one of the most ornate theaters in the state.
Wilde showed up wearing a purple Hungarian smoking jacket, knee breeches and black silk stockings. The title of his lecture was
The Practical Application of the Aesthetic Theory to....
etc. etc. How could rough and ready miners not appreciate that? Several of the stage hands threw him off of the stage because he was too sissified.

Miners were so impressed, they named a vein after him, The Oscar.
This christening necessitated a ceremony in which Wilde was lowered to the bottom of a mine in a bucket where he ate an underground meal and smoked a cigar. "Then," he explains, "I had to open a new vein, or lode, which with a silver drill I brilliantly performed, amidst unanimous applause. The silver drill was presented to me and the lode named 'The Oscar'. I had hoped that in their simple grand way they would have offered me shares in 'The Oscar', but in their artless untutored fashion they did not. Only the silver drill remains as a memory of my night at Leadville.

Several of Wilde's "fans" took him to Leadville's red light district for the purpose of getting Wilde drunk and to humiliate him. The Leadville crowd was astonished when Wilde drank them under the table.

Coming Soon
If you enjoyed this blog about Leadville, you will love a new mystery set in Leadville,1896.

Comment
Click on the number of comments in the comments section below and share your thoughts and opinions.