Quote
I have learned to use the word 'impossible' with the greatest caution.
~Wernher Von Braun

What we are doing on the space station is exploitation, continuing to go where we have been before. Exploration is when humans have never been before, and see what humans have never seen before.
Eugene Cernan, Apollo 17 Commander

Colorado's Orion Connection
America experienced another 'Apollo moment' when Colorado's United Alliance Company's Delta IV Heavy Rocket was launched this week from Cape Canaveral, Florida. The rocket was up for 4 hours and 24 minutes, orbited Earth twice and splashed down 640 miles from San Diego, California. During its journey, the first orbit was 552 miles from earth and the second was an astonishing 3,604 mile high. The spacecraft passed through the Van Allen Radiation Belt twice.

The Orion was built at a Lockheed Martin facility in the foothills west of Denver. Colorado has nearly 400 aerospace-related companies and close to 170,000 aerospace jobs, making it the greatest per-capita aerospace employing state in the country. Many companies, some as small as 6 employees, worked on various subsystems of the rocket.

The target date is 2021 for a manned flight to Mars. Impossible? It seems nothing is impossible.

Colorado's North Pole Connection
North Pole Colorado Santa's Workshop is a Christmas themed family amusement park on a 25-acre site on the slopes of Pikes Peak. There are 28 amusement rides in the park. Some are for small-fry and others are for smaller children to ride with an adult (16 and over).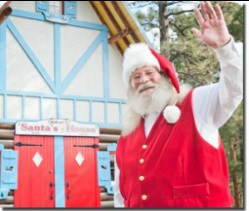 Colorado's Santa Claus Connection
North American Aerospace Defense Command
(
NORAD
) is an organization that provides aerospace warning, air sovereignty, and defense for North America. Headquarters for NORAD are located at Peterson Air Force Base in El Paso County, near Colorado Springs, Colorado. The nearby
Cheyenne Mountain nuclear bunker
has the Alternative Command Center.
Microsoft and NORAD have teamed up again this year to track Santa Claus across the globe. The tracker is now up and running, and parents can use it to tell the kids where on the globe the old man is now. Great family fun on Christmas Eve.
Furthermore, folks using the Windows Phone platform will have the option to call on Cortana, Windows Phone's voice assistant, to ask her questions such as "Where is Santa Now." It's gimmicky, but cool for those who enjoy tracking Santa every year and telling their children when Santa is near. Santa's entire trip lasts longer than the Orion space experiment.
Adults will appreciate Murder in the Rockies in their Christmas stockings.
Honest, it makes a great stocking stuffer, and no assembly required.
Comments
Let us hear from you using the Contacts Page in the Menu or the Add a Comment box below.