Barney Ford
Last week's blog was about a research trip to the Barney Ford Museum in Breckenridge, Colorado.
For those who wanted to learn more about Barney and less about G. Eldon Smith here are some
Ford Fun Facts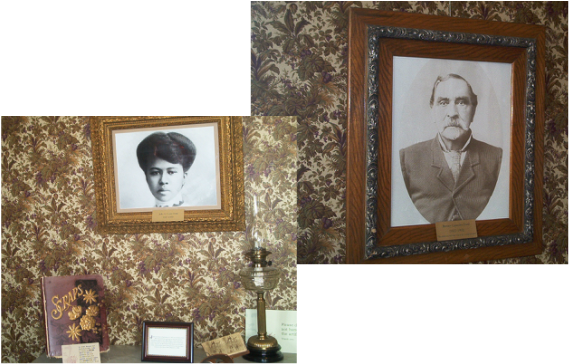 Portraits of Barney and Julia Ford . The rooms are refurbished as close as the Historical Society could make them to resemble the original Ford home. The wallpaper in the background is an accurate reproduction of what was on their walls.

Barney was born to a slave and a white slave owner.
Barney grew up in South Carolina where he learned to read and write from another servant. Ford escaped slavery at age twenty-six when his master hired him out to work on a Mississippi riverboat. He simply walked off the boat in Quincy, Illinois and fled to Chicago.
In Chicago he met Julia and they were married. Julia helped him pick a last name, because slaves did not usually have last names. The Fords decided to go to California. They sailed from the east cost and went around South America (there was no Panama canal
at that time) and lived in Central America for a short time before proceeding to San Francisco.
Ford owned and operated hotels and restaurants in Denver and Cheyanne, Wyoming. Eventually the Fords and their three children
moved to Breckenridge, Colorado where Barney operated his Ford Restaurant and Chop House.
Although he was a successful businessman, he is most noted for lobbing congress to not approve Colorado's new constitution (thus making the territory a state) until the constitution gave negros the right to vote. Barney Ford was one of the first civil rights champions in Colorado..
There is much more of the Barney Ford story included
in
Murder in the Rockies.
Murder in the Rockies
is available through ebook retailers and book stores everywhere and is listed on Amazon Books: Makes a great Christmas present...easy to wrap.
http://www.amazon.com/Murder-Rockies-Andrew-Coyle-Eldon/dp/1938467701/ref=sr_1_1?s=books&ie=UTF8&qid=1406579112&sr=1-1&keywords=murder+in+the+rockies&dpPl=1#reader_1938467701