Quote
Come, follow me into the neighborhood of old age ~G. Eldon Smith

Bronco Organized Team Activities (OTAs)
According to Coach Kubiak there is open competition between three players for the starting Quarterback position. Because of the retirement of Payton Manning and the jumping to Houston for a better contract by Brock Osweiler, the Broncos are starting almost from scratch to fill the QB position.

Mark Sanchez, the only Bronco quarterback with NFL experience, was obtained for a conditional 2017 draft choice.
Paxton Lynch, Bronco's number one draft choice, is still learning the playbook.
Trevor Siemian was on the practice squad last year. Surprisingly, he has had the best practices of the OTAs.

Wade Phillips, Defensive Coordinator, seemed pleased with newcomers on defensive. Two rookie safeties have been impressive. Justin Simmons and Will Parks are scheduled to play on special teams, but they have other ideas. They expect to play and provide some depth at the safety position.

Linebacker Todd Davis is an intense player. He looks like a likely replacement for Danny Trevathan who jumped to the Chicago Bears to play for former Bronco coach John Fox.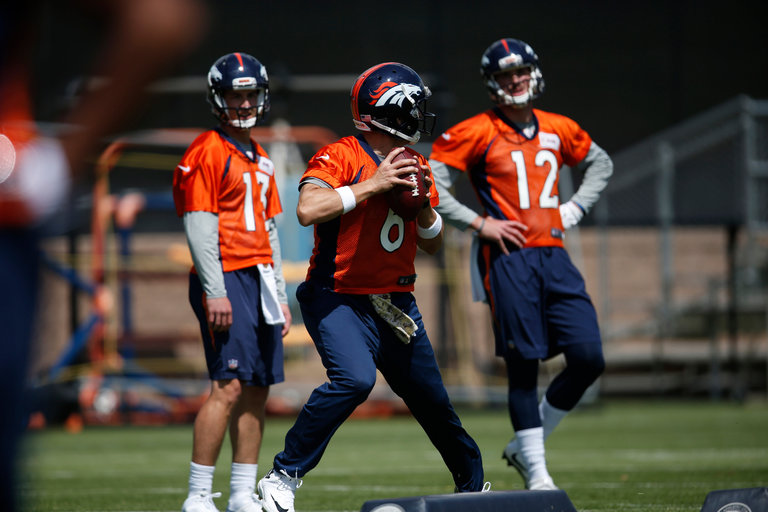 ( L to R) Sieman, Sanchez, Lynch

Women's Sports
Mallory Pugh and Lindsey Horan, both from Colorado, are on the U.S. National Women's Soccer Team. Pugh is 18 and recently graduated from Mountain Vista High School in Highlands Ranch, CO. The women tied the team from Japan 3-3 in a practice game at Dick's Sporting Goods Park on a late goal by the U.S.

Kim Hess, from Steamboat Springs, Colorado, reached the peak of Mount Everest May 21 to give her 5 of the 7 highest peaks, one in every continent. Her goal is to climb the "Seven Summits" as they are known.

Gold Rush in the Rockies
Discovery of gold in Colorado is attributed to William Greensberry Russell of Georgia. Through his Cherokee connections Russell heard about an 1849 discovery of gold along the South Platte River at the foot of the Rocky Mountains. He organized a party to prospect along the South Platte River, setting off with his two brothers and six companions in February 1858. They rendezvoused with Cherokee tribe members along the Arkansas River in present-day Oklahoma and continued westward along the Santa Fe Trail. Others joined the party along the way until their number reached 107. The few accounts of Russell suggest a confident man who inspired trust.

Upon reaching Bent's Fort, they turned to the northwest, reaching the confluence of Cherry Creek and the South Platte River on May 23. The site of their initial explorations is in present-day Confluence Park in Denver. They began prospecting in the river beds, exploring Cherry Creek and nearby Ralston Creek but without success. After twenty days, several decided to return home, leaving the Russell brothers and ten other men behind. In the first week of July 1858, Green Russell and Sam Bates found a small placer deposit near the mouth of Little Dry Creek that yielded about 20 troy ounces (600 grams) of gold, the first significant gold discovery in the Rocky Mountain region.

In early 1859, Russell was drawn to the mountains by the discovery of gold in Gregory Gulch near present-day Central City. He discovered placer gold deposits in June 1859 in the valley that was soon named Russell Gulch in his honor. By the end of September, 891 men were mining gold in the gulch.


Confluence Park where Cherry Creek flows into the South Platte as it now exists.

Colorado Trivia
Colorado has the nation's highest....
paved highway, up Mount Evans, it climbs to 14,258 feet in elevation
suspension bridge, Royal Gorge, 1053 feet over the river below
incorporated city, Leadville, 10,430 ft
continuous highway, Trail Ridge Road
sand dunes, Sand Dunes National Park has some 700ft high dunes

Comments
Please leave your suggestions, questions, and comments under the tab "Contact Us."








































rd of thoroughbred horses across the continent to California. R