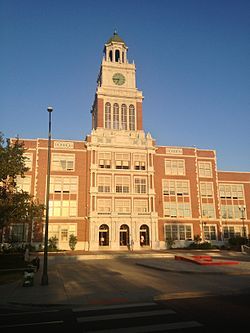 Denver's East High School
East High School was the first high school in Denver. It opened in 1875, and the first graduating class was in 1877. In 1925 "Old East" was demolished and the new building was opened. The architect was George Hebard Williamson, himself an 1893 graduate of "Old East" Williamson is not the only Alumni of note. Other famous or nearly famous Alums are listed below. Some may surprise you.
Update
Hattie McDaniel and Ward Bond both had parts in
Gone With The Wind.
McDaniel won an Oscar for best actress in a supporting role.
Ward Bond appeared in many John Wayne movies.(TVs
Wagon Train
)
Joe Barry Carroll NBA All Star
Don Cheadle, actor, producer, writer, director, most famous movie part,
Hotel Rwanda
,
Judy Collins, folk and standards singer and songwriter. Send in the Clowns, Amazing Grace
Three members of Earth Wind and Fire a group in the Rock and Roll Hall of Fame
Philip Bailey
Andrew Woolfolk
Larry Dunn
Mamie Eisenhower, wife of President Dwight D. Eisenhower
Harold Lloyd, funnyman in silent comedies
Hattie McDaniel, actress (the first African American to win an Academy Award for her performance in
Gone with the Wind)
Stephen L.R. McNichols, Colorado governor (1957–1963)
Jack Swigert, NASA astronaut and member of the Apollo 13 mission
Paul Whiteman, a jazz composer and bandleader
Sidney Sheldon, Academy Award-winning screen and television writer
and many, many more East High Angles. Yes, that is their mascot, the Angles.
Stange But True
The king of hearts is the only king without a mustache on a standard playing card!
The Mona Lisa has no eyebrows. It was the fashion in Renaissance Florence to shave them off.
The most popular first name in the world is Muhammad!
Every day 20 banks are robbed. The average take is $2,500!
Tourists visiting Iceland should know that tipping at a restaurant is considered an insult!





Book World
Popular novelist Jerusha Jones (Imogene Museum Cozy Mystery Series and Mayfield Cozy Mystery Series) has introduced a new series. The first cozy in the Tin Can series is Meercury Rising set in the area where she lives near a marina at the confluence of the Willamette and Columbia Rivers in Washington state.

Here is what she has to say about Mercury Rising:

I think you'll find this new Tin Can cozy mystery similar in all the best ways. New characters, new setting, new problems, but the same emphasis on heartwarming relationships and a strong sense of community. Oh, and a dead body--let's not forget that important detail. What community would be complete without one?

When a body bumps against the dock just a few feet from Eva Fairchild's floating house on the night of her welcome party at the marina, she begins to wonder if her recent move across the country was such a good idea. Combine the resulting murder investigation with mysterious nighttime kayak trips, politicians run amok, nosy neighbors, and culinary lessons for her blue-haired, teenaged tagalong, Willow Ratliff, and Eva has her hands full. It doesn't help that the police detective on the case is handsome, annoying, and more than willing to match her snide remarks with witticisms of his own. Soon, Eva is a walking repository of other people's secrets. It's not a role she ever asked for, and it might just prove lethal.
Amazon Books and other electronic book retailers

Contact Us
Leave your comments and suggestions in the Contact Us tab in the menu above.