Quotes
Football combines the two worst things about America: it is violence punctuated by committee meetings. ~George F. Will

Football is not a contact sport; it's a collision sport. Dancing is a good example of a contact sport.
~Duffy Daugherty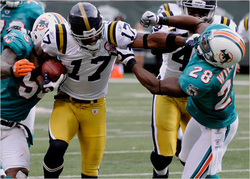 Pittsburgh regular season









Wild Card Weekend (All the visiting teams won)
in
Saturday, Jan. 9

4:35 p.m. ET - Kansas City Win at Houston (ESPN/ABC)

8:15 p.m. ET - Pittsburgh at Cincinnati (CBS)

Sunday, Jan. 10

1:05 p.m. ET - Seattle Win at Minnesota (NBC)

4:40 p.m. ET - Green Bay Win at Washington (FOX)

Divisional Weekend

Saturday, Jan. 16

4:35 p.m. ET - Kansas City at New England (CBS)

8:15 p.m. ET - 3/4/5 at Arizona (NBC)

Sunday, Jan. 17

1:05 p.m. ET - 4/5/6 at Carolina (FOX)

4:40 p.m. ET - Pittsburgh at Denver (CBS)

Championship Weekend

Sunday, Jan. 24

3:05pm ET - AFC Championship (CBS)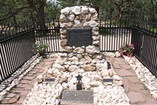 William F. Buffalo Bill Cody
The Buffalo Bill grave and museum are popular places of interest for visitors. Buried at Lookout Mountain just west of Denver with a wonderful view of the city and the great plains to the east. A cement mound over the top of the grave and a iron fence around it protect the site from intruders.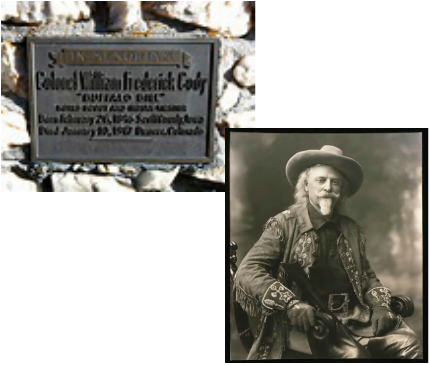 The question is, why was Cody buried at Lookout Mountain instead of Cody, Wyoming, a town he founded to accommodate tourists departing form Yellowstone National Park. An early Will instructed his heirs to bury him in the Wyoming town bearing his name.
A later Will left the burial details up to his wife. Some say she was coached, and coerced into picking the Colorado burial site. When rumors surfaced that the Wyoming group planned to move the body to Cody, Colorado placed armed guards around the grave until a deeper hole could be dug and the present security measures could be added.

Legend has it that his wife said, "It was the only way I could keep him at home."

Lindsey Vonn
Vail, Colorado's premier woman skier won the Woman's World Cup downhill at Altenmarkt-Zauchensee Austria for her 36th career win in the downhill.
Lindsey Vonn tied Annemarie Moser-Proell's 36-year-old record for downhill victories. Earlier this season Vonn broke Moser-Proell's record for overall career World Cup wins. Sunday Vonn won the super G for a double win and moved closer to first place in the overall World Cup standings held by Lara Gut.
Did you know?

Bristlecone pine trees, believed to be some of the world's oldest living things, are found in the western states of California, Utah, Nevada,
Colorado
, New Mexico and Arizona.


The lowest temperature ever recorded in the United States was at Prospect Creek, Alaska on January 23, 1971. The temperature was -80°F (-62°C). The coldest temperature in the contiguous 48 states was at Rogers Pass, Montana on January 20, 1954. The temperature there was -70°F (-56°C).
The deepest lake in the U.S. is
Crater Lake
located in Oregon. At 1,932 feet (589 m) it is the world's seventh deepest lake. Crater Lake was formed via snowmelt and precipitation that gathered in a crater created when an ancient volcano, Mount Mazama, erupted about 8,000 years ago.
Colorado covers 104,093 square miles (269,600 sq km). If the mountains were flattened out Colorado would have greater land area than Texas, the second largest state.
Comments

If anyone has a comment, Please leave it in the "Contact Us" section in the Menu above.