Quotes
"You don't really understand human nature unless you know why a child on a merry-go-round will wave at his parents every time around and why his parents will always wave back."
~William D. Tammeus

"It is not enough to reach for the brass ring. You must also enjoy the merry go round.
~Julie Andrews"

"We're captive on the carousel of time, we can't return we can only look behind." ~Joni Mitchell

Trivia
In the United Kingdom, merry-go-rounds usually turn clockwise, while in North America and Mainland Europe, carousels typically go anticlockwise as viewed from above.

You say Carousel - I say Merry Go Round
'The Kit Carson County Seat is located in Burlington, Colorado near the Kansas border.. Burlington is also the home of a historic masterpiece, in 1979, the Kit Carson County Carousel was designated a National Historic Site.

According to the Kit Carson County Carousel web site the carousel has quite an interesting history.The Philadelphia Toboggan Company built its sixth carousel in 1905 for Elitch Gardens, an amusement park in Denver.By 1927 Elitch Gardens decided its park needed a larger and more modern carousel...one with four rows, all horses that would go up and down. PTC#6 was a stationary carousel; its animals did not "jump", and though it went very fast (more than 10 miles an hour), Elitch's old carousel was now passé. In 1928, Elitch's purchased PTC#51 and sold No. 6 and a Wurlitzer Monster Military Band Organ to Kit Carson County for $1,200 (including delivery to Burlington).

The three county commissioners who OKed buying the Carousel were voted out of office when they next came up for election. The voters thought is was frivolous spending that much money in those hard times.

In 1981 three wooden horses and one donkey were stolen. Again according to the Kit Carson County web site, the burglar alarm on the carousel building malfunctioned sometime over the weekend.It was later learned that the "carousel caper" was one of 10 thefts undertaken by a Kansas-based burglary ring specializing in antiques.

A few months after the carousel burglary, Kansas authorities discovered the missing carousel figures along with guns, old coins, museum pieces, and other stolen antiques in the Salina warehouse. Seven persons faced a variety of conspiracy and stolen property charges relating to the multi-state thefts, but only two were directly charged in connection with the carousel burglary.

Carousel Association members traveled to Salina to pick up the wandering steeds and brought them back to Burlington in (naturally) a horse trailer! As to the two thieves, they were not punished at the end of a rope, proving some things have changed since the 1800s.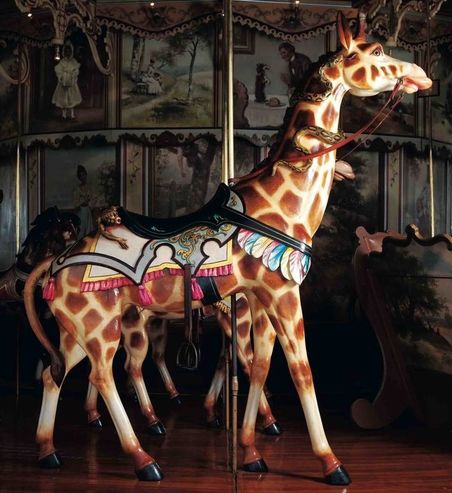 If you are traveling on I-70 any where near Burlington, Colorado it is well worth the short trip out of your way to go this magnificent Merry Go Round...ooops Carousel.

Update
Traditionally the Colorado Rockies get off to a good start and then fall off a cliff in terms of wins and losses. Right now the Rockies are 10 wins and 5 losses. However, their best two starting pitchers are sidelined for heath reasons. Will the pitching staff augmented with pitchers from the miner leagues be able to hold up until broken bones heal? We will see about one month from now.
Chuckles
Q: What do you call an alligator in a vest?
A: An Investigator

Q: What do you call a crocodile with GPS?
A: A Navi-gator.

Q: What do camels use to hide themselves?
A: Camelflauge!

Q: How are tigers are like sergeants in the army?
A: They both wear stripes!

Comments
Please leave your remarks and comments in the form under the tab "Contact Us" in the menu above. Suggestions and Complements welcome.