Quotes:
Always go to other people's funerals otherwise they won't go to yours.
~Yogi Berra

Another murder trial
Harold Henthorn has been found guilty of murdering his wife Toni by purshing her off of a cliff in Rocky Mountain National Park. Investigators have suspicions about the "accidental" death of Henthorn's first wife Lynn in 1995. Both women were heavily insured before their deaths.

According to Henthorn's story, Lynn was helping change a tire on their jeep, when Henthorn threw the flat tire into the back of the jeep, the jeep fell on Lynn, killing her. Investigators have been unable to replicate the jeep and jack accident. A jury did not find enough evidence to convict Henthorn in the earlier incident.

The coincidents between the two cases were too strong for the present jury to ignore. That coupled with Henthorn's inability to tell the same story twice (there were about a dozen versions) led to his conviction. A novelist couldn't come up with a plot as unbelievable as this.


l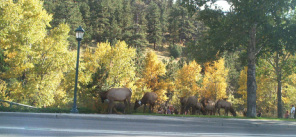 Rocky Mountain Autumn

Elk and Deer come down to lower altitudes in the fall to avoid the snows of winter in the high mountains The elk of Rocky Mountain National Park consider Estes as their winter resort.

Autumn is also a good time to visit the park to listen to the bull elks "bugling" to call their "harems" together during rutting season.
Elk in the streets of Estes Park, Colorado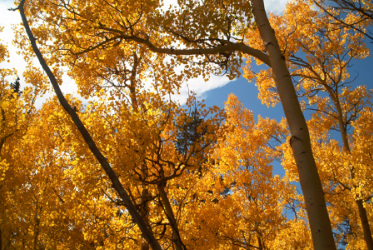 AVERAGE DATES OF PEAK FALL COLORS---ASPEN TREES
(areas N to S)
Steamboat Springs 9/5 to 9/15
Frisco 9/18 to 9/29
Aspen (town) 9/22 to 10/3
Ouray 9/25 to 10/5
Pagosa Springs 10/8 to 10/16


These are only averages, wind or snow can leave the trees bare at any time.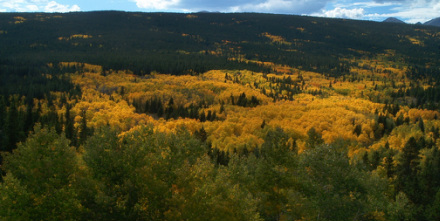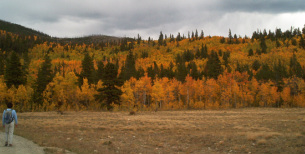 It is better to go early than too late. Remember a freak snowstorm will ruin the fall colors and make a beautiful but different scene.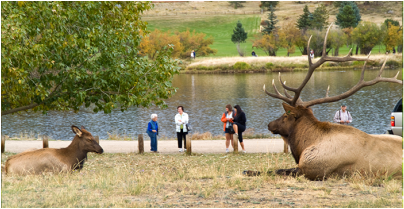 Estes Elk Fest Oct 3-4
Many special are events planned. Their website announced:
"
The free festival features bugling contests, Cabela's Archery Range, elk exhibits, the Rocky Mountain Raptor Program, elk seminars, a Mountain Man Rendezvous, elk-inspired arts and crafts, Native American music, dancing and storytelling, self guided elk tour maps, a children's' area with elk-themed activities, and a craft beer garden.
Colorado Parks and Wildlife representatives will be on-site offering an Elk Camp where you can explore a variety of educational booths, and their staff will be helping in the field as attendees take the self-guided elk tour! "
What they are saying

Can't go to Estes Park or the Rocky Mountains? How about reading a good book. Here is what they are saying about Murder in the Rockies:

"You too should enjoy this engrossing mystery enriched by Smith's love of Colorado's natural beauty, and his ability to bring characters to life.'
~
Thomas "Doctor Colorado" Noel
, University History Professor
and author of 41 books on the Highest State.
"G. Eldon Smith has fashioned a ripping good murder yarn about
justice in the Old West. His knowledge of Denver and its wild early years
shines through as he leads the reader on a merry chase through the
seamy underground of the Mile High City.
~
Dick Kreck
, author of
Hell on Wheels: Wicked Towns Along the
Union Pacific Railroad

"
I found Murder in the Rockies to be engaging, informative about Colorado's colorful history, and laced with funny, true-to-the-times dialogue. Humor twinkles throughout, and the ending is satisfying and unexpected."
~
Karen Gerdes
, former professor of English and English as a Second Language at the University of Denver
Mr. Smith: I picked up a copy of "Murder in the Rockies" a few weeks ago at the bookstore in Edwards, Colorado, and just finished it a few minutes ago. Well done! I enjoyed it very much and look forward to the next Andrew Coyle novel. Thanks very much!
~
Kent
(unsolicited email)
Available at most electronic retailers and at many fine book stores.

http://www.amazon.com/Murder-Rockies-Andrew-Coyle-Eldon/dp/1938467701/ref=sr_1_1?s=books&ie=UTF8&qid=1406579112&sr=1-1&keywords=murder+in+the+rockies&dpPl=1#reader_1938467701