Quotes
If you have to ask, "Is that good enough?" the answer will undoubtedly be, "No, it isn't." ~ G. Eldon Smith
A visit to:
Roxborough State Park in the foothills just above Denver attracts visitors with its amazing red-rock formations and abundant wildlife.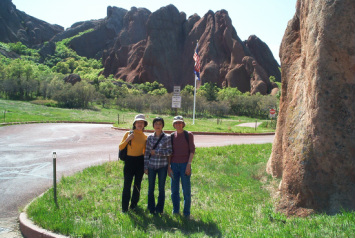 Denver-area residents have one of nature's jewels in their backyard
.
Ro​xborough​ is a Colorado Natural Area and a National Natural Landmark for good reason. The park, with close to 4000-acres, is filled with dramatic red-rock formations, distinct plant communities, and a host of wildlife ranging from black bears to mule deer.
Visitors can take in all of Roxborough's
geological
wonders via a series of
trails
​ for every level of hiker. The Fountain Valley Overlook is only 100 yards from the Visitor Center and provides spectacular views of several beautiful rock formations, including the Fountain Formation, Lyons Formation, and the Dakota Hogback.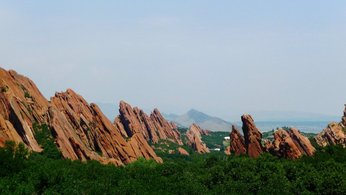 Many visitors tote their cameras to capture one of the many beautiful views or animal sightings such as red fox from one of the park's overlooks.​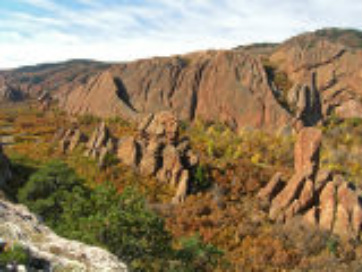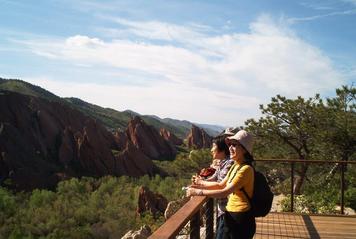 Roxborough is only a little less than an hour from most parts of Denver. These ladies came all the way from Japan to visit the park.. The formation they are looking at is the Fountain Formation the name of that layer of rocks. The Fountain layer runs from Denver's famous Redrocks amphitheater to the Garden of the Gods in Colorado Springs.



Lines From Murder in the Rockies

"W
e
've got a five piece band here on weekends. They play that new ragtime music and it is syncopated and ever so tuneful. The music is hot and the beer is cold."
"What does syncopated mean?"
"I don't know."

Coyle rushed down the stairs two at a time and ran next door to Fong's Drangon Palace, with the shrunken pants and jacket trailing behind him. He became the kite and the shrunken apparel served as the tail.

Murder in the Rockies is available at most electronic retailers and many fine bookstores

http://www.amazon.com/Murder-Rockies-Andrew-Coyle-Eldon/dp/1938467701/ref=sr_1_1?s=books&ie=UTF8&qid=1406579112&sr=1-1&keywords=murder+in+the+rockies&dpPl=1#reader_1938467701


Riddles
1) David was out for a walk when it started to rain. He did not have an umbrella and he wasn't wearing a hat. His clothes were soaked, yet not a single hair on his head got wet.
2)
Why are 1990 dollar bills worth more than 1989 dollar bills?
3)
Why can't Kevin Laroche, who is now living in Canada, not be buried in the USA?
Answers
1) David is bald
2) The same reason seven dollars is worth more than six dollars
3) Because he is still alive

Comments
Please leave your comments and questions in Contact Us in the Menu above.