Quote
I've never met a grandparent who said their grandchildren were dumb. The grandchildren have all either skipped a grade, are reading The Wall Street Journal, or are just plain smart, according to their grandparents.
. ~ G. Eldon Smith

All things Colorado quiz
1. We all know Horace Tabor's second wife's name was Baby Doe. What was his first wife's name?
a. Augusta
b. Bertha
c. Clara
d. Dianna

2. The three states whose borders come together to touch Colorado at the "Four Corners" are?
a.Oklahoma, Texas, Nevada
b. Utah, Arizona, Nevada
c. Utah, Arizona, New Mexico
d. Wyoming, Kansas, Nebraska

3. Henry John Deutschendorf Jr. performed under the stage name of __________?
a. Henry Fonda
b. Johnny Trinidad
c. Hank Durango
d. John Denver

4. Colorado was admitted to the Union as the __________?
a. 31st state
b. 38th state
c. 42nd state
d. None of the above

5. Guys and Dolls was written by Colorado author _____________?
a. Sandra Dallas
b. Glen Miller
c. Mary Chase
d. Damon Runyon

6. The Colorado State Fair is annually held in ________________?
a. a different Colorado city each year
b. Colorado Springs
c. Pueblo
d. Denver

Where the Deer and the Antelope Play
The only truly and completely American large mammal alive today is the pronghorn. Not a deer, not an antelope, not a goat, the pronghorn family Antilocapridae originated right here and stayed put for 19 million years. The pronghorn (Antilocapra americana) is indigenous to interior western and central North America. Though not an Antelope, it is often known colloquially in North America as an antelope, because it closely resembles the true antelopes of the Old World.

Relative to their small stature, pronghorn have a large windpipe, heart and lungs, making them extraordinarily fast. They can maintain speeds of 40 miles per hour for several miles and purportedly run up to 60 miles per hour in short bursts. They are considered the fastest animal in the Western Hemisphere and the second-fastest land mammal in the world, after the cheetah.

Pronghorns prefer open, expansive terrain at elevations varying between 3,000 and 5,900 ft, with the densest populations in areas receiving around 9–15 inches of rainfall per year. They eat a wide variety of plant foods, often including plants unpalatable or toxic to domestic animals, cattle Healthy pronghorn populations tend to stay within 3.-4 miles of water.

A National Wildlife Federation study concludes that herds across Colorado and southern Wyoming "may not be able to fully recover" unless federal and state agencies initiate larger-scale planning to protect their habitat. The veteran biologists who did the work relied on data supplied by state game managers and attributed the drop-offs in numbers to a combination of factors: drought, invasion of weeds, residential construction and the acceleration of oil and gas drilling that has brought well pads, pipelines and roads.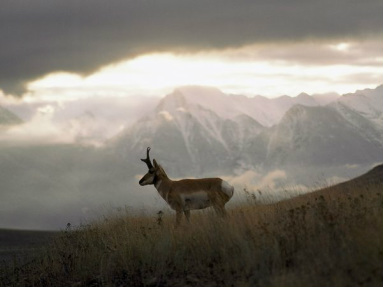 Pronghorn (Antelope)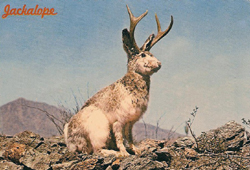 Another animal of the Great Plains, the Jackalope, a crossbeed between a Jack Rabbit and an Antelope also known as the Warrior Rabbit. Rarely seen because they are very fast (60 miles an hour in short bursts) and quick to get out of sight.

Answsers to the Quiz

1.- a, 2.- c, 3.- d, 4. - b, 5. - d, 6. - c
If you got all 6 answers correct, consider yourself an Honorary Coloradoan

Comments
You may leave your comments in the space below if you wish.