Quotes
You can always count on Americans to do the right thing - after they've tried everything else.
~ Winston Churchill

Red Rocks Park
Red Rocks Amphitheatre is a geological phenomenon – the only naturally-occurring, acoustically perfect amphitheatre in the world. Red Rocks is the Carnegie Hall of the West. If you make it there you know you've made it.

And like the artists who spend a lifetime developing their craft, Red Rocks as a music venue came about slowly. Its rose from a prehistoric ocean floor 300 million years ago. From then on, it was shaped by eons of freezing and thawing, rain and wind. The amphitheatre is anchored by two mighty monoliths, Ship Rock to the south and Creation Rock to the north, perched in the foothills beneath the Continental Divide.
In the early 1900's, John Brisben Walker had a vision of artists performing on a stage nestled into the perfectly acoustic surroundings of Red Rocks. Walker produced a number of concerts between 1906 and 1910 on a temporary platform; and from his dream, the history of Red Rocks as an entertainment venue began.

In 1927, George Cranmer, Manager of Denver Parks, recommended the City Council of Denver purchase the area of Red Rocks from Walker for the price of $54,133. Cranmer convinced the Mayor of Denver, Ben Stapleton, to build on the foundation laid by Walker. Most of the work was done by the federally sponsored Civilian Conservation Corps (CCC), and the Work Projects Administration (WPA) provided labor and materials for the venture

Red Rocks Amphitheatre is a sacred place for musical moments. And now it's having its own moment by celebrating its 75th anniversary with spectacular concerts throughout 2016. Here is a list of a few special concerts this summer:
Wed. July 27, Dolly Parton
Mon. August 1, AEG announces the JERRY GARCIA SYMPHONIC CELEBRATION feat.
WARREN HAYNES AND THE COLORADO SYMPHONY
Mon. August 22, Jackson Browne
Mon. August 29, Styx and the Colorado Symphony
Thur. September 8, Bonnie Raitt
Mon. September 12, Daryl Hall and John Oats
Thur. October 13, Jimmy Buffett and the Coral Reefer Band

There are concerts virtually every night. Those listed are merely the big names, but many of your favorite bands are playing Red Rocks this summer. Check for listings and ticket availability.

Quickies
I'm addicted to brake fluid, but I can stop whenever I want.
A soldier survived mustard gas in battle, and then pepper spray by the police. He's now a seasoned veteran.
Atheism is a non-prophet organization

Colorado into Space…again
Juno, NASA's mission to Jupiter has completed its five year journey. It begin to orbit the gaseous planet on the night of July 4 at an altitude of 3,000 miles. The objective is to collect data that may help scientists determine how planets are formed.

The spacecraft was built at Lockheed Martin's facility in the hills of Jefferson County. The New Frontiers proposal came to NASA from the University of Colorado's Laboratory for Atmospheric and Space Physics at CU Boulder. Juno's co-investigator Professor Fran Bagenal credits Juno's success up to now to the "strong team that worked on this project." Juno will orbit Jupiter for 20 months, and eventually some of the instruments and machine will began to wear out and fail.

A cheer went up in mission control when the motor to slow Juno's speed worked, and the spacecraft slowed. An even bigger cheer when Juno went into orbit around Jupiter as planned. Five years after taking off and ten years after being conceived the mission was successful in all the most difficult stages. The engineers and scientists were ecstatic seeing their work bring success.

Places to Visit
Just to the west of Grand Junction, Colorado in the plateau region, stands Colorado National Monument. Spectacular canyons cut deep into sandstone, and even granite–gneiss–schist, rock formations. This is an area of desert land high on the Colorado Plateau, with pinion and juniper forests on the plateau. The park hosts a wide range of wildlife, including red-tailed hawks, golden eagles, ravens, jays, desert bighorn sheep, and coyotes.

Conservationist John Otto dedicated himself to protecting and promoting the land that today we know as Colorado National Monument. He supervised the park for 16 years, at a salary of $1 a month. Ultimately, Colorado National Monument was established on May 24, 1911, as a presidential proclamation by President Taft under the authority of the Antiquities Act. Various attempts for making the area a National Park have failed.

Otto built the first trails into this rugged landscape to reach the glorious red rock canyons. He climbed the steep monoliths to post the American Flag from the highest vantage points he could reach. He surveyed the first road, Trail of the Serpent - four miles with 52 switchbacks. The switchbacks and rate of decent make the road a popular place with bicyclists.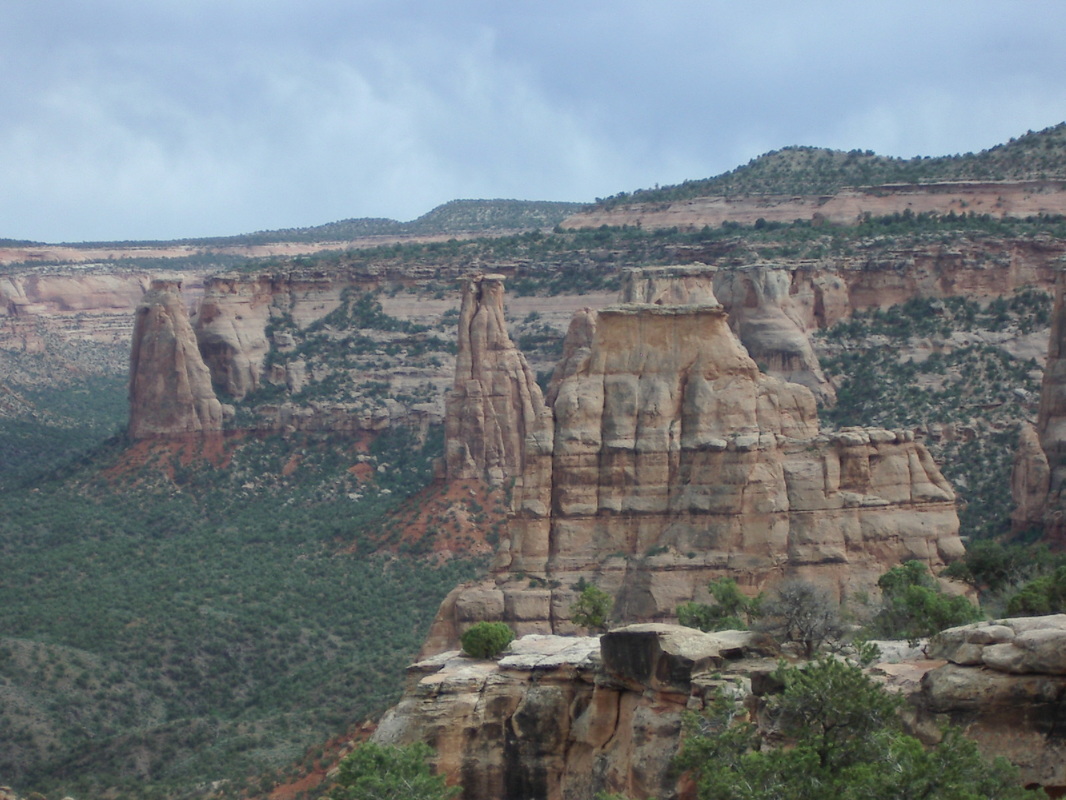 Comments
Please leave your comments in the form under the "Contact Us" tab'