Quote
The traveler sees what he sees, the tourist sees what he has come to see.
~Gilbert K. Chesterton

Lesser known places of interest
When planning to travel in Colorado, many people think of Aspen, Airforce Academy, Denver Mint, or Rocky Mountain Park. This week's blog is the last of the blogs about lesser known places to visit in Colorado. We have only scratched the surface, but we hope we have opened your eyes to the endless possibilities in this beautiful state.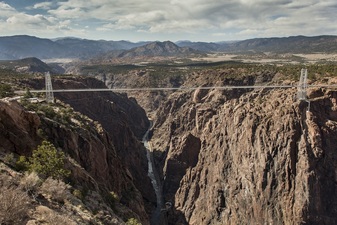 Royal Gorge Bridge and Park
A train
originates in nearby Canyon City, Colorado to take its passengers on a scenic trip through the canyon along the river to the Royal Gorge bridge.
In the park there are several rides and attractions: Royal Rush Skycoaster, Zip Line, Gondola, Miniature Railroad, Rafting on the Arkansas River and a Visitor Center.
Of course, there is the Bridge. The bridge
is the highest bridge in the nation at 956 feet above the Arkansas River
Built in 1929 for $350,000, the cost today would easily exceed $20 million. It was a world wonder then and still is today. For those who venture across it, whether walking or driving, the experience is priceless.
Engineering Facts
Length: 1,270 feet (387 meters)
Width: 18 feet (5 meters)
Main Span: 880 feet (268 meters)
Towers: 150 feet high (46 meters)
From any angle, you have to see it to believe it!
Good News
Amy Van Dyken-Rulon
Easily the most outstanding swimmer in Colorado State University history and Olympic medal winner, Amy Van Dyken is slowly working her way back from a horrific ATV accident.
Her story is incredible -- Van Dyken was seriously injured in an ATV wreck back in 2014 ... but she's been fighting to regain full use of her legs. She says the biggest accomplishment of her life is STANDING again ... after severing her spinal cord last year. In her own words, "absolutely the biggest accomplishment of my life even greater than winning 6 gold medals."
A year ago Amy Van Dyken was in a hospital bed unable to move, the result of the ATV accident. Even though doctors initially said she suffered a severe spinal injury,
she vowed to walk again.
Now with help from a full-body machine that moves her legs she manages to walk.
But the therapists keep dialing down the machine's assistance, ramping up her struggle. Van Dyken says walking is physically demanding. "You can see I get done with walking maybe 50 feet and I'm sweating," she said. "When you walk you don't grunt like I'm grunting."
Always smiling on the outside and filled with determination in her heart, you have to love that lady.
Book News
Popular, fiction author, Mike Befeler (
Retirement Homes Are Murder; Living With Your Kids Is Murder
) of Boulder, Colorado has teamed with WWII veteran, 96-year-old Ed Gitlin to write a non-fiction account of Ed's experiences in the war as a forward observer and as a prisoner of war survivor.
Mike Befeler's non-fiction book,
For Liberty: A World War II Soldier's Inspiring Life Story of Courage, Sacrifice, Survival and Resilience
(ISBN 978-0692444603), is now available from Green Leaf Publishers, priced at $19.99.
Murder in the Rockies
(G. Eldon Smith, koehler books, ISBN 978-1-938467-70-7) is available at many book stores and most electronic retailers.
Comments
Please leave your comments
in the space below. You also may want to take advantage of the "Contact Us" item in the menu at the top of the page. Either way, we would like to hear from you and get your Thoughts and Opinions.