Quotes
Look Mommy, I can swim!
~child at poolside

I never drink water because of the disgusting things that fish do in it.
~W. C. Fields

Colorado's Less Known Places
When many people think of visiting Colorado, they think of Aspen, Air Force Academy, Denver Mint, or Rocky Mountain National Park. Last week we mentioned Sand Dunes National Park as a less known attraction in Colorado. This week, hot mineral springs and the resorts that go with them.

Glenwood Springs, west of Vail on I-70
History: The Ute Indians made yearly pilgrimages to the springs which they considered to be sacred. Known to the Utes as Yampah, or "Big Medicine," Glenwood Hot Springs has always been a place for healing. In 1888, the the resort and original spa officially opened for business.
Some facts:
World's largest outdoor mineral hot spring pool
The "big" pool is 90 – 93 degrees Fahrenheit, every day, winter and summer.
There are smaller pools with water temperatures of 102-103 degrees.
The mineral waters are known to have healing powers.
Hot springs still deliver three and a half million gallons of hot water every day,

Also: Pagosa Springs and Hot Sulfur Springs, Colorado towns named after their hot springs and adjoining resorts. check them out

Mount Princeton Hot Springs pictured below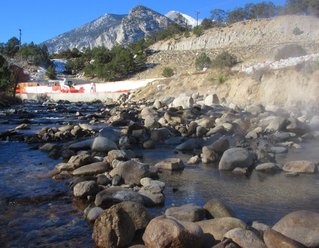 Situated at the base of the beautiful Mount Princeton, this resort has several springs next to Chalk Creek. Bathers can relax in the hot spring water or move a rock or two to allow the cold creek water to cool their own "private tub." Of course, there is a big tub at the resort with all the amenities.

Mount Princeton is located between Buena Vista and Salida on US 285 in the Collegiate Mountain Range .

Comments
Please, leave your comments, questions, and suggestion in the "Comments" section below.