Quote
Mountains are earth's undecaying monuments
.
~ Nathanial Hawthorne
Colorado Places to Visit

When people think of places to visit in Colorado, most often they think of Aspen, Air Force Academy,
Denver Mint,
or Rocky Mountain National Park. The next several weeks, this blog will feature other places of interest to visit in Colorado.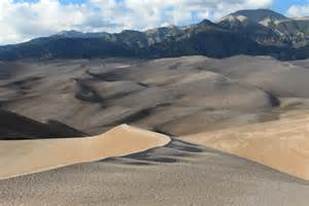 Sand Dunes National Park & Preserve is located in Southern Colorado nestled right next to the Sangre de Cristo mountains, 35 miles north east of Alamosa, Colorado. The entire dune field encompasses 30 square miles and the tallest dune towers 750 feet high.The park boasts North America's tallest dunes. The park is open 24 hours a day, 365 days a year.

The Sand Dunes offer numerous activities. The most popular is hiking, as the area is filled with countless trails. Some of these hikes take a few minutes while others take hours. Hiking to the top of the High Dune is a popular. Many of the other trails can be toured with a trail guide, giving insight about the history of the dunes. These trails are beautiful and must be undertaken by foot; bikes are not permitted on the trails.

Visitors love to rent sleds (about $20/day, but worth it) to sled down the year-round sand and plunge into the soft-sand tracks of those who climbed ahead of them. Aside from the dunes, you'll find picnicking, hiking and camping opportunities, the challenging four-wheel scenic drive on Medano Pass, and horseback-riding trails.

Silly Quiz
1.Denver is the only city to turn down the opportunity to host which international sporting event?
a) Winter Olympics (1976)
b) World Mountain Bike Championship (1958)
c) Girls' 18 and Under Tiddlywinks Tournament (2003)

2. What singer/entertainer took the name of a Colorado city?
a) Preston Pueblo
b) Jean-Claude St. Louis
c) John Denver

3. Which politician (later became Governor) led the campaign to refuse to host the Winter Olympics?
a) Charles Lyons
b) Richard Lamb
c) Cary Hawk

4. Murder in the Rockies is best known as a ______?
a) suspenseful mystery
b) historical picture of early Denver
c) exciting legal drama
d) romantic comedy

Did you get them all correct?

Answers
1. a
2. c
3. b
4. all

Comments
Please leave your comments in the comments section below.