Quote
Poetry is finer and more philosophical than history; for poetry expresses the universal, and history only the particular.
~Aristotle

Colorado Poet Laureate
In its history, Colorado has appreciated art, literature and especially poetry. The annual gathering of cowboy poets is a big deal,which draws large crowds. Think Dexter Black and Waddie Mitchell. The cowboy poets are carrying on the poetry tradition from the past.

The position of Poet Laureate was established 1919. Colorado became one of the first states to have a Poet Laureate when Governor Oliver Shoup appointed Alice Polk Hill. The appointment, formerly for a lifetime, is now a four-year term. The current Poet Laureate is Joseph Hutchison who was appointed by Governor Hickenlooper in 2014.

In the Colorado State Capitol there are eight murals painted on the walls of the rotunda. The murals were painted in 1940 by Colorado artist Allen True. Each mural is accompanied by an excerpt of a poem written by Thomas Hornsby Ferril, who later was honored to be named Colorado Poet Laureate.


Men shall behold the water in the sky
and count the seasons by the living grasses.
(One panel of eight and part of the poem by Thomas Hornsby Ferril
)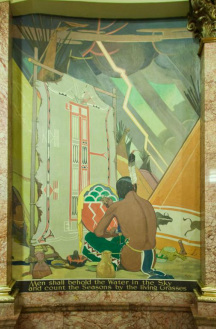 When Poet Laureate is mentioned in Colorado the first name that comes to mind is Thomas Ferril. A lifelong resident of Denver, poet Thomas Hornsby Ferril was born in 1896 and educated at Colorado College. With his wife, Helen, he published the Rocky Mountain Herald from 1939 to 1972. Ferril also served as publicity director for Great Western Sugar for more than 40 years and was appointed Colorado Poet Laureate in 1979. He served in the post until 1988, the year of his death.

Riddles
1. What two things can't you eat for breakfast?
2. What tastes better than it smells?
3.What asks but never answers.

With her marriage, she got a new name and a dress.

ANSWERS
1. Lunch and Supper
2. A tongue
3. An owl

Weather
Mother nature gave us a Mothers' Day present of 4-5 inches of snow. in Denver..on Mothers' day!
Our condolences go out to the victims of other recent disasters; tornadoes, earthquakes et al.
God go with you.
Comments
Please scroll down to the "Comments" section and click on the number of comments, then type your suggestions, questions, and comments.