Quotes
Sports do not build character. They reveal it. ~Heywood Broun

Colorado Characters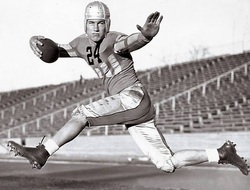 In the past few weeks we've written about
Lindsey Vonn
,
Mattie Silks
, and
Margaret Molly Brown
, but not all Colorado Characters have been women.


Byron Whizzer White
was born in Fort Collins, Colorado and grew up in nearby Wellington, Colorado. He graduated from Wellington High School where he was at the top of his class.
He attended the University of Colorado in Boulder. Byron played football
being named All-American, and was nicknamed Whizzer by a sports writer. Whizzer was offered a Rhodes scholarship after graduating, but elected to play professional football.
Whizzer White was selected as the fourth choice in the first round of the NFL draft by Pittsburgh. He led the league in rushing in 1938. After a year at Oxford, he returned to the NFL and led the league in rushing while playing for Detroit. He was the highest paid player in the league, earning $15,000 a year. At the end of his third year, World War II broke out and ended Whizzer's football career, as it did for so many other professional athletes.

White joined the Navy. He served in Naval Intelligence and won two Bronze Stars
. After the war he earned a law degree from Yale University, and worked as an attorney in Denver for fifteen years. White served as Colorado Chairman of
John F. Kennedy's
election campaign in 1960. In 1962 he was appointed Associate Justice of the Supreme Court where he served for twelve years.
In appointing Byron White to the Supreme Court, Kennedy said of White, "He's excelled at everything he has done." Byron Whizzer White, a true hero of Colorado.
Palindromes

Elite tile
Dog doo? Good God!
Drab as a fool, aloof as a bard.
Success Story
Popular author of cozy mysteries, Jerusha Jones has been approached by an editor at
Thomas & Mercer. Thomas & Mercer has agreed to publish Jones' six book series of Imogene Museum Mysteries. The series is on sale for $2 a book for the month of March. Paperback editions will be issued in June 2015.
In the meantime
Hide & Find
, Mayfield Cozy Mystery #3 is released and available at electronic retailers.
More castaway boys, a stash of stolen artwork, and a newly-arrived, newly twelve-stepping mother-in-law. Not to mention an FBI surveillance team, the stalwart Clarice, and an amorous, Harley-riding hunk of former Green Beret. You didn't think Nora would get bored, did you?
Congratulations, Jerusha!
Tattered Cover
Denver"s premier independent book store is closing its Highlands Ranch store and moving to a smaller building in Aspen Grove shopping center. Tattered Cover operates two other large stores plus auxiliary
shops at Union Station and Denver International Airport.
Murder in the Rockies
can be ordered from Tattered Cover as well as from other retailers and electronic sites. Tattered Cover ships to any place in the country.
Comments
We would like to hear your comments. Leave them in the Comment space below.