Quotes
In the depth of winter I finally learned that there was in me an invincible summer.
~
Albert Camus
I read this quote while watching a Colorado snow storm out of my window. ~G. Eldon Smith

Tommy Caldwell, mountain climber
Tommy Caldwell of Estes Park, Colorado and his climbing partner Kevin Jorgeson from California completed the world's hardest big-wall climb, the Dawn Wall in Yosemite National Park. Caldwell was interviewed by The Denver Post two weeks after the climb when he had time to appreciate what he had accomplished . The following are some of his remarks.

Caldwell and Jorgeson spent seven years exploring routes and practicing climbing with ropes to plan their 3,000 foot free climb. Caldwell said, " I think there were a lot of climbers who looked up at Kevin and me up there on the wall for all those years with pity. Like 'What are they still doing up there? They are just wasting their lives hanging out on ropes trying to pursue this ridiculous thing that is never going to happen'."

But it did happen, and Caldwell and Jorgeson spent 19 days in December and January in what became the first ever live spectator event streaming on the internet. They never touched ground, and often climbed at night using headlamps to illuminate slivers of granite no thicker than a penny for hand holds.

"Climbing is an incredibly healthy and amazing way to live. It's this life-driving force," said Caldwell.


Riddle
You have three stoves, a gas stove, a wood stove and a coal stove, but you only have one match. Which should you light first?
Colorado Characters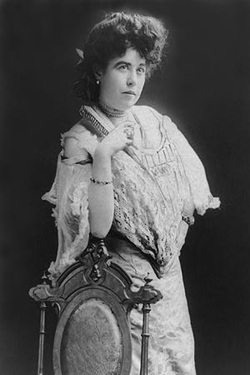 Margaret Tobin was born in Hannibal, MO, 1867 to Irish immigrant parents. She never met Mark Twain as she later claimed.
She started working in a factory when she was 13. Maggie as she was known, joined her brother David and her sister-in-law in a move to Leadville, CO where she began working in a department store.

Shortly after arriving in Leadville she met J.J. Brown, a mining engineer. They were married after a summer courtship. J.J. was 31 and Margaret was barely 19.

In 1893 the silver market crashed and there was a general depression. Leadville was particularly hard hit because their economy was built around silver mining. Unemployment in Leadville went to 90 percent. Margaret became involved in volunteering at soup kitchens and charities.

J.J., who had become the mine superintendent, discovered a means of digging past the gravel that contained silver and reaching a lower level where gold was found. The owners of the Little Johnny rewarded J.J. with enough shares of their Ibex mining company that the Browns became millionaires. The Browns moved to Denver and bought a house on Pennsylvania Street. The house is now a state museum and the interior is much the same as when the Browns lived there. Margaret and J.J. grew apart and slept in separate bedrooms. J.J.'s bedroom was near the back stairs where he could come and go unnoticed.

The Browns legally separated and Margaret became interested in international travel. She booked passage on the maiden voyage of the Titanic. The night that the Titanic sunk she was able to supervise the loading of her lifeboat. Her leadership led to the occupants survival. She told a newspaper reporter that her narrow escape was "just Brown luck, we're unsinkable."

After her death in 1932, a book about her life, was later made into a musical stage play called The Unsinkable Molly Brown. And ever since, she has been known as Molly Brown although she was never called that in her lifetime.

Riddle Answer
The match

Coming Soon
Two Miles High and Six Feet Under a tale of Leadville during Molly Brown's time. A lively and adventurous trip through the history of the Cloud City.