Quote
Only those who will risk going too far can possibly find out how far one can go. ~ T.S. Elliot

Climbing El Capitan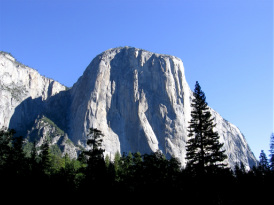 Tommy Caldwell of Estes Park, Colorado and Kevin Jorgeson from California proved the impossible can be possible if you are determined, willing to pay the price in hard work, and have the courage to attempt it. Caldwell and Jorgeson free-climbed El Capitan, a 3,000 foot high slab of granite in Yosemite National Park , California. They were the first to achieve it.

The ascent took 19 days of climbing.They used tape and Super Glue on their bloody hands to aid the healing process. For 18 nights the mountaineers slept in tents attached to the sheer rock wall.
Tommy's father, Mike Caldwell, is a climbing guide at the Colorado Mountain School in Golden, Colorado, which is just west of Denver. He started Tommy's climbing career when the lad was age 3. Mike said of Tommy's El Capitan achievement, " He doesn't understand the magnitude of the accomplishment and the excitement generated."

Ski Conditions in Colorado
For readers unfamiliar with Colorado geography it may be helpful to have a Colorado map handy to locate some of the resorts and locations described here. We will mention only a handful of the numerous ski opportunities in Colorado. Hopefully the range represented here will give you an idea of the variety of places to ski in the state.

Aspen
Possibly the most famous of the Colorado ski resorts is in the heart of Summit County. 100% lifts open, 32 inches packed powder, no new snow last 48 hours (Jan -16) Bring money.

Eldora
Eldora is your backyard Ski Area. Located just 21 miles from Boulder and 45 miles from Denver - Eldora is close enough to make getting there easy. Relaxed. Unpretentious. 20 inches of packed powder at mid-point. A Boulder city bus drops skiers off 50 feet from the lift.

Crested Butte
An old coal mining town, Crested Butte has become one of the best ski towns in Western Colorado.
(The better known Telluride also provides great skiing, but like Aspen, bring money.) Crested Butte had 38 inches of packed powder at mid-mountain (Jan 16). All 13 lifts are open. An authentic destination, where crowds don't exist, zany, festive community events are a priority, and genuine family adventure awaits.

Vail
The home of champion skiers, Vail is an outstanding ski destination. The ultimate Colorado ski resort. Colorado skiing doesn't get any better than here at Vail Resort.

There are many others like Breckenridge, Arapahoe Basin, and Loveland Ski Area.

Palindromes
Bar an arab.
Boob

Comments
Please leave your comments or questions below.