Cowboy Quotes
Never approach a bull from the front, a horse from the rear, or a fool from any direction.
Don't squat with your spurs on.
Behind every successful rancher is a wife who works in town.
It don't take a genius to spot a goat in a flock of sheep.
Always drink upstream from the herd.
Generally, you ain't learnin' nothing when your mouth's a-jawin'.
Some examples of wit and wisdom that can be heard at the Colorado Cowboy Poetry Gathering,
A Festival of Western song, poetry, & storytelling January 19 - 22 -2017 in rhyme. Held in conjunction with the National Western Stock Show in Denver.

Stock Show History
There is a common Denver expression that locals understand and nod in agreement: "Stock Show Weather." The National Western Stock Show has been held every January since 1906. January being one of the coldest and stormiest months, it is likely there will be some bad weather during the Stock Show. The first week of this January saw three nights with temperatures below zero. The population winked and agreed, Stock Show Weather. In passing, by the end of the second week in January 60 degree highs are expected durning the day.

In 1931 a rodeo was added to showing and judging livestock and the annual event is now known as the National Western Stock Show and Rodeo. It is considered the Super Bowl of Rodeos. The Rodeo is the world's biggest indoor rodeo. In the early days of the Stock Show there was no "indoors." The first three years the show was held in huge tents until the auditorium was competed in 1909.

Other events and competions have been added in the 111 year history. A Horse Show, sheep herding by dogs, mutton busting (kids trying to ride sheep) chuck wagon races, and fiddle contests etc. are part of the celibration Something everybody should see at least once.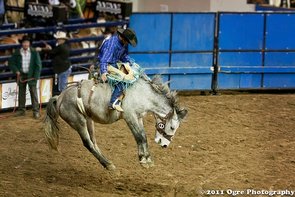 To combine two Colorado favorites, annually a group of rodeo cowboys go to the ski area in Steamboat Springs, Colorado and in their cowboy hats and outfits to compete in ski races. A spectacular scene to behold.

Colorado History in a Novel
Murder in the Rockies is set in Denver in 1893. It captures the flavor of the city changing from a mining economy to agriculture.(Thus the coming of the Stock Show.) A plus is the mystery, some romance, and a touch of humor. Murder in the Rockies is available online and at electronic retailers.

Ski News
Shiffrin, from Eagle-Vail, the name rings through the World Cup of Skiing world. Mikaela Shiffrin right now is the Queen of woman's ski racing. In World Cup overall standings Shiffrin has 948 points and in second Lara Gut of Switzerland has 643. All of that can change in a split second as Lindsey Vonn can testify. One bad fall, one broken bone, can spoil a season of work. We hope Mikaela will be able stay on top of the world. Shiffrin has won eight of her last nine races.
With the win Sunday in Slovenia, and her third place finish in Aurstria on Tuesday, she has widened her overall lead to 1,008 points to Gut's 643. "I didn't ski fast enough. And that's pretty much it," Shiffrin told The Associated Press "...it's easy to lose that kind of time if you ski a couple of turns a little bit tentative."

Comments
Please leave your questions and thoughts in the form under the "Contact Us" tab.