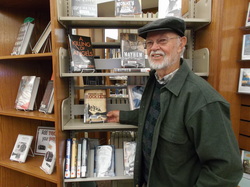 Quotes
It is ridiculous to set a detective story in New York City.
New Your City is itself a detective story,

The best time to plan a book is while you're doing the dishes.

Every murderer is probably somebody's old friend.

~all from Agatha Cristie

My book is in the library like Agatha's books.
It is not set in New York City.
Find out who was the murderer's old friend.
Did you know?
The population of Denver, Colorado: 1880 35,627;
1890 106,713;
1900 133,859
Murder in the Rockies is set in Denver 1890 when the population was increasing at approximately 7,000 people a year.

Excerpt When Andrew Coyle, Esq. of the Philadelphia Coyles, stepped off the train and onto the platform at Denver's Union Station, his first look at Denver amazed him. He had expected mostly frame buildings, if not log cabins. Instead, he saw well-built, brick structures reaching as high as four or five stories. It was 1890 and Denver had been rebuilt in brick after the disastrous fire of '63 and the flood of '64. Business was booming and opportunities abounded. Andrew Coyle, fresh out of law school, meant to take advantage of every opportunity that came his way.

Coyle crossed the street and caught the 17th Street cable car. He noticed the tall buildings and telephone poles along the way to Larimer Street, the main commercial street in the growing city. He had seen tall buildings before, and telephone poles in the east. They were not new to him, but he had not expected to see them in Denver.

For those days, Coyle was also tall. At 6'2" he was the tallest in his graduating class. His height also emphasized the thinness of his youth. He looked like one of the telephone poles he saw along the way. In fact, he may have been described as gangly. His light brown hair and boyish smile seemed to say, "Hey look at me! I'm full of exuberance." His older brother, Albert Jr., often said Andrew was full of something else.

Comments
If you have any comments, please leave them in the box below. We would like to hear from you. Short blog this week. Gotta go now, time to wash the dishes. Coming Agatha.