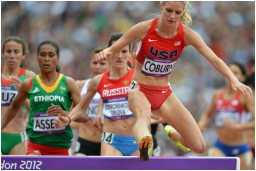 Vacation News

Second day of fishing rained out. Don't ask about the first day.
Thoughts and Opinions

Quotes
"Success is going from failure to failure without losing enthusiasm." –
Winston Churchill
"Success is not the key to happiness. Happiness is the key to success. If you love what you are doing, you will be successful."–
Herman Cain
"You've got to get up every morning with determination if you're going to go to bed with satisfaction."
–
George Lorimer
Colorado Olympic Athletes
Here is an impressive list of athletes from Colorado who represented the United States in the 2016 Olympics. We are reminded that even making the team, regardless of results at the games, is a great honor.
Adeline Gray
, at age 25, isn't ready to commit to another four years of training for wrestling competition after a surprising loss 3-1 to Vasilisa Marzaliuk of Belarus in the women's wrestling quarterfinals.
Clark Smith
, who attend Regis Jesuit High School - Men's Swimming - US, Smith was a member of the
4x200 meter team that won gold.
Emma Coburn
, Steeplechase
Emma Coburn, a University of Colorado graduate from Crested Butte, said she appreciated her opponents' strength and speed because it allowed her to pace herself so she could have a strong finish. Coburn, 25, finished third, the first-ever U.S. women's medal in Steeplechase.
Taylor Phinney
, suffered a horrific crash which derailed his career in 2014, but, almost a year later, Phinney was back on his bike with his sights set on a return to the Olympics in 2016. Making the Olympic team was a great achievement although he did not place higher than a 22nd place finish.
Both
Mallory Pugh
, and
Lindsey Horan
who lived and played high school soccer in the Denver area were named to U.S. Olympic soccer team. The U.S. team lost in the semifinal game in an overtime shootout against Sweden.
Mason Finley
, was thinking too much about technique, rather than trusting his training and letting it rip. He finished 11th among 12 throwers with a heave of 203 feet, 7 inches.
Boris Berian
, middle distance runner, made it through two rounds, and placed 8th in the final round of the 800.
Ben Pinkelman,
forward on the Rugby Team that is doing well in the Olympic tournament. Pinkelman played for Cherry Creek High School and Colorado State University and the semiprofessional Denver Barbarians.
Mara Abbott
, women's cycling, road race. Abbott, of Boulder Colorado, was leading until the last 100m and then was passed by a group of three, but she was exhausted and couldn't do anything to stop them.
Missy Franklin
, swimmer, from Centennial, Colorado. She got a gold medal for being on the backstroke relay team in the qualifying rounds. She was held out of the final round which the team won. She will be successful at whatever she chooses to do in the future...competitive swimming, going back to college...and all of us in Centennial wish the best for her.
Murder in the Rockies
Here is what Dick Kreck, author and former columnist for The Denver Post, said about
Murder in the Rockies
:
G. Eldon Smith has fashioned a ripping good murder yarn about justice in the Old West. His knowledge of Denver and its wild early years shines through as he leads the reader on a merry chase through the seamy underground of the Mile High City.
(click on link) http://www.amazon.com/Murder-Rockies-Andrew-Coyle-Eldon/dp/1938467701/ref=sr_1_1?s=books&ie=UTF8&qid=1406579112&sr=1-1&keywords=murder+in+the+rockies&dpPl=1#reader_1938467701
Gunnison Sage Grouse
Bureau of Land Management officials announced a plan to protect Sage Grouse populations in a 1,000-page document last week. The plan restricts energy development, new roads, and grazing. During the birds' mating season, Mid-March to Mid-May, some areas would be closed or limited. The proposal opens a 90-day period for public comment. Rules are expected to take effect next year.
Gunnison Sage Grouse are only found in Western Colorado and parts of Utah. The population is estimated to be about 5,000 birds. They are listed as "threatened," which is one step less serious than "endangered." The species is an important part of the western Eco-system.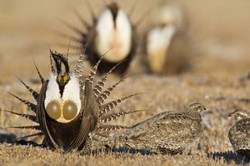 Male Gunnison Sage Grouse during mating season displaying for a hen nearby. Look closely and see a second hen in the edge of the picture. The camouflage coloring of the hens is very good.

Comments
Please leave your comments in the form under the tab "Contact Us"