Quotes
Education is an admirable thing, but it is well to remember from time to time that nothing that is worth knowing can be taught.
~Oscar Wilde
Oscar Wilde visited Leadville in the early days. His visit was not appreciated by either Wilde or the rough and ready miners of the highest incorporated city in the U.S.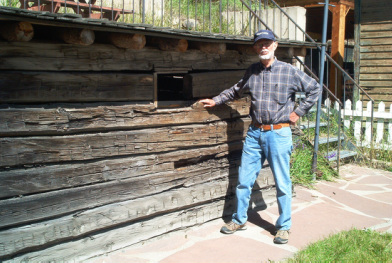 G. Eldon Smith doing research in Leadville, Colordo for his next Andrew Coyle mystery, Two Miles High and Six Feet Under.
A tale about the Ice Palace, a tourist attraction the citizens of Leadville built in the winter of 1895-96. Smith visited the actual site of the Palace in his research.

Discussing the Mystery genre
In the previous blogs, we discussed Historical Mysteries, Cozy Mysteries, Hard Boiled Detective Mysteries and in this blog the subject is the Female Protagonist Mystery.

Some readers may remember Honey West on TV in 1968-69 or Cagney and Lacey
1981 to 1988. Then there was the never-to-be-forgotten
Charlies' Angels
.Three beauties who carried revolvers in their bikinis. Don't ask how or where.The guns just appeared when the Angels needed them. These were early experiments with female protagonists.
None of these
came close to the original female crime solver, Agatha Cristie's Miss Marple. This English lass first appeared in print in 1930, and caught murderers and frustrated Chief Inspectors in thirty-four novels set in and around her quaint village of St. Mary Mead. There have been several versions of Miss Marple, but we favor the one who lives in our imagination as we read the novels.
Today's crime fighters may be part of the official police establishment as opposed to the amateur detectives in Cozies. The female detective is often single or divorced. If divorced, she has a daughter and there is a much greater chance she will face violence than her cozy counterpart does.
Catch us on the web

Murder in the Rockies can be found on Amazon:
http://www.amazon.com/s/ref=nb_sb_noss_1?url=search-alias%3Dstripbooks&field-keywords=murder+in+the+rockies