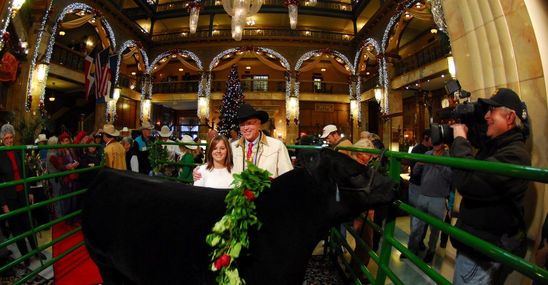 Update
The Grand Champion Steer was crowned at the National Western Stock Show ans is being shown in the lobby of the Brown Palace Hotel in downtown Denver. This is the 72nd year of this unique tradition, of the Brown Palace hosting the Grand Champion Steer. The Grand Champion was shown by Lillie Skiles,Cottonwood Cattle of Dalhart, TX with Fu. Fu was sold in auction for $135,000. The money will go into Ms. Skiles' college fund.

Quotes
What good is the warmth of summer, without the cold of winter to give it sweetness?
I am ready for winter to be over. Enough is Enough.
If kisses were snowflakes, I'd send you a Blizzard.
I like these cold gray winter days, they let you savor a bad mood.

Candy Trivia (Did you know?)
Baby Ruth bars were not named after a baseball player. Baby Ruth was President Grover Cleveland's daughter Ruth although the resemblance to the name Babe Ruth probably help sell more candy bars.

The first candy to be individually wrapped was Tootsie Rolls.
The M&M stand for Forest Mars Sr. and Bruce Murray, the two men who launched M&Ms.
The name, Milky Way, comes from a type of malted milkshake that was popular in the early 1920s.
Originally Cotton Candy was called Fairy Floss by its inventor William Morrison.
Admiral Byrd brought 2 1/2 tons of NECCO wafers for his men during their two year stay at the South Pole.
Jolly Rancher was the name chosen to suggest a hospitable, western company.

Speaking of Jolly Rancher, the company was founded in 1949 in Golden, Colorado. The
founders were Bill and Dorothy Harmsen who started the company. During that time period, hard candy sales were growing larger and larger. The company originally made chocolate, ice cream, and hard candy. These items were sold at "Ranch Made Ice Cream" stores around the Denver area. Jolly Rancher is also known for its candy, "Fire Stix." During winter months, the ice cream didn't make a great sale. The Harmsen's then decided to focus on hard candies.

In 1951, production moved from Golden to Wheat Ridge, Colorado. A mechanic whose shop was next door said they could always tell which flavor the Rancher was making by the smell coming from his neighbor.

Jolly Rancher made the "Famous for Flavor" line for the hard candies. In 1966, the owners of Jolly Rancher decided to sell their Jolly Rancher candy to Beatrice Foods. Jolly Rancher Company was sold to Beatrice Foods and the production of the candy remained in Colorado. In 1996, the Jolly Rancher candy production was moved out of Colorado altogether when the Hershey Company purchased Jolly Rancher and moved production to Mexico and Canada.

Comings and Goings
Coming, Vance Joseph, hired as the new Broncos Head Coach. Mike McCoy returns as Offense Coordinator, Bill Musgrave will coach the Quarterbacks. Musgrave was a High School star quarterback at Grand Junction, Colorado and won the prestigious Gold Helmet award from the Denver Post in 1985.

Going, The Avalanche traded Cody McLeod, the player who had been with the team the longest. McLeod was the team's "Enforcer" leading the league in fighting penalty minutes last year.

Coming, Lindsey Vonn is coming back from a broken arm. She skied in the downhill at the World Cup in Austria and placed 13th. "I felt like I was skiing pretty well, just maybe not quite on the limit yet," Vonn told reporters in the finish area. "But I am happy. For me, it's not really a matter of the results, just happy to be racing again. It was her first race in eleven months.

Going (?) University of Denver number one rated college hockey team lost 3-0 to the Western Michigan Broncos Friday night. Saturday night the Pioneers won 7-2. How will the split affect their number 1 ranking?

Ski Report January 14, 2017
Updated ski report with the latest information. Figures are down a little, but the roads are clear and getting there is easier. Temperatures are up in most places. Enjoy!

Arapahoe Basin 2 inches new powder machine groomed 70 inches base
Aspen Highlands 3 inches packed powder 56-76 base
Breckenridge 59 inch base,
Copper Mountain 51-71 base 100% open
Crested Butte new powder machine groomed, 81 inches base
Eldora machine groomed, 42-42 inch base, all trails and lifts open
Monarch 1 inch new powder, 83 inches base
Purgatory 2 inches packed and groomed powder 65-69 inch base
Steamboat packed powder, 62-73 inch base 165-165 trails open
Telluride 51 inch base
Vail 49-49 inch base
Wolf Creek 2 inch powder machine groomed, 107-111 inches base

Comments
Please leave your comments, suggestions and questions in the form under the Tab, "Contact Us."