Quote:
"To lead people, walk beside them … As for the best leaders, the people do not notice their existence. The next best, the people honor and praise. The next, the people fear; and the next, the people hate … When the best leader's work is done the people say, 'We did it ourselves!" Lao-Tsu

Colfax Marathon
The past weekend's Denver marathon named the Colfax Marathon because one of the main streets on the course is Colfax Avenue. The woman's division was won by Heidy Lozano. Lozana has done marathons before but this was her first win. She is 53 years old and thought she would never win one. She said, "She won the race for everyone who gives up on themselves because of age."

Incidentally, Denver's Colfax Avenue was named after Schuyler Colfax who was elected Vice President under Ulysses S. Grant. Colfax (R. Indiana) served six years as Speaker of the House before he was elected Vice President.

Spring Animals
Spring is a time of birth and new life in plants and animals. We respect wildlife's place in the environment and try to share it with wild creatures. Here from the Colorado Division of Parks and Wildlife are some methods, tips, and laws concerning wildlife particularly babies born in the spring.

The Colorado Division of Parks and Wildlife (CPW) often hears from citizens who want to "help" wildlife, however helping means keeping "hands off." By allowing our wildlife to retain their natural, healthy wild instincts, we are helping them.

For example in early May, the man who saw a bison calf in the road in Yellowstone National Park. The calf was wet and shivering. The man waited twenty minutes for an adult bison to come to take care of the calf. When no adult bison showed up, the man put the calf in his SUV because the calf looked cold. The calf could not return to the herd, presumably because it had taken on strange odors, and had to be euthanized.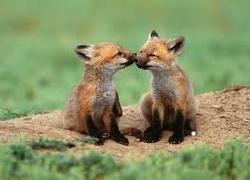 Each year CPW and rehab. agencies receive scores of calls from concerned humans about wildlife that has been "abandoned" by adult animals. Many are tempted to "help" a young animal by picking it up or trying to feed it, however it is critical that people understand there is no substitute for their natural parents.


Baby mammals are scentless in order to prevent predators from finding them," said Janet George, senior terrestrial biologist for CPW. "When humans touch these animals, they are imparting them with a scent their adults will not recognize. This can result in true abandonment of healthy offspring."

​If you find young wildlife, enjoy a quick glimpse, leave the animal where it is, and keep pets out of the area. ​Quietly observe the animal from a distance using binoculars and don't hover so close that the wild parents are afraid to return to the area.

"If 24 hours go by and the parent does not return, it is possible the newborn was abandoned or the parent is dead (hit by a car, for example)," said Jenny Campbell, customer service expert with CPW. "Call our office and we will work with certified wildlife rehabilitation center to get aid for the wildlife if possible. Don't move the animal yourself!



Wildlife are well adapted to feed on natural food sources; they don't need food from humans," said Matt Martinez, a Colorado Parks and Wildlife officer in the Parker area. "People think that feeding wildlife doesn't negatively affect wildlife, but in reality it is irresponsible and often leads to the death of the animal being fed."
A law passed in 1992 makes it illegal to feed big game animals. This includes deer, elk, pronghorn, mountain goats, bighorn sheep, mountain lions and bears. Feeding wildlife is bad for the animals and dangerous for people, for a number of different reasons.



Thanks for photos from the Colorado Division of Parks and Wildlife

Did you know?
Movie popcorn costs more per ounce than filet mignon.
Researchers have found that swearing when in pain causes the body to release pain killing endorphins.
The designer of the current U.S. flag was only 17 at the time and did it for a school project. He got a B- for it.

Alexander the Great encouraged his men to shave so that the enemy could not pull their beards in battle.
Danny Devito used to be a hairdresser for corpses.
Doctors' sloppy handwriting kills more that 7,000 people in the U.S. annually.

There are 60,000 miles of blood vessels in the human body.
Reed Hastings started Netflix when he received a $40 late fee when he returned Apollo 13.
For every human on earth there are 1.6 million ants.

There is no mention of Murder in the Rockies (available at Barnes and Nobel or Amazon) anywhere in this blog.

COMMENTS
Please leave you opinions at "Contact Us" on the main menu.