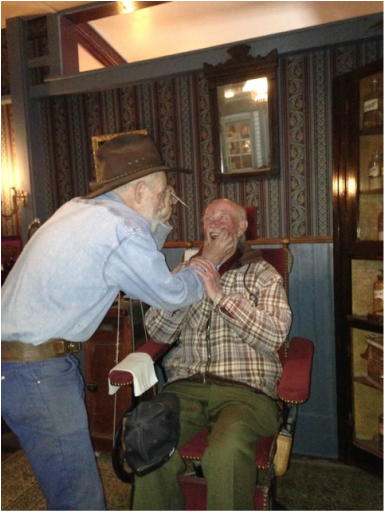 Quotes
Always borrow money from a pessimist. He won't expect it back. ~Oscar Wilde
If you don't think too good, don't think too much. ~Ted Williams
Fenway is the essence of baseball ~Tom Seaver

Wish I'd said that
Light travels faster than sound. This is why some people appear bright until they speak.
Why is Christmas just like a day at the office? You do all the work and the fat guy with the suit gets all the credit.
What's the difference between roast beef and pea soup? -- Anyone can roast beef.

Museum of the Mountain West
Montrose, Colorado is the gateway to the Black Canyon of the Gunnison National Park. The Black Canyon is definitely a "must see." In many ways it rivals the Grand Canyon...and there are much smaller crowds if there are any crowds at all.


But don't drive through Montrose to get to the Black Canyon, and then keep going. Montrose is also the home of the Museum of the Mountain West, a unique collection of collections. The owner and director of the museum is Richard Fike who has been collecting things since he was four years old.

Right now his big project is to refurbish a house built in 1904 that has been moved to the museum site. Estimates for repairing and refurbishing the house are around $25,000. Fike spent most of the museum's money getting the house moved through the streets of Montrose. The rest will (hopefully) come from donations and volunteer labor.

Fike's goal is to build a street like one that would have existed around the turn of the last century. He already has a bar, doctor's office, telegraph office, a church from 1913, blacksmith shop and a school house. All with appropriate furnishings and equipment.

The dental office was quite authentic as our tour guide Mike demonstrated on yours truly. We have come a long way since then...or I hope we have. Mike did not charge me for the dental work.

The admission is $10 for adults and $5 for children. Well worth it to spend an afternoon with Mike the Story
Teller and the dental work is free.

The World of Books
After Christmas we have come across some interesting books in many different categories. We have not read all of these books, but they are on our list of wanna reads.

Catana Tully is a retired academic. She is the author of a memoir Split at the Root ~ about growing up among a race and culture different than one's own. She has high goals for her memoir. She wants it to be another To Kill a Mockingbird in terms of exploring interracial interaction.

E. B. Sullivan is a clinical psychologist - who better to write a psychological thriller? Ms. Sullivan's Bloom Forevermore will keep you turning pages. Also see Ms. Sullivan's memoir Between the Vines about growing up in California wine country.

Kendall Hanson, whose book, The Drifter and the Deputy (Farr and Fat Jack Book 4) in particular, is my cup of tea even though NY publishers don't think the public will buy Westerns.

Susan McIntire has written the kind of book writers need to read - Kindle Secrets (How to Make Money Now Self Publishing.) Mac Edition

Gordon A. Wilson: Thinker, dreamer, author and student of life, pushing away through another day, picking up what I can along the way. Writes books about writing books.

G. Eldon Smith, Murder in the Rockies, might as well get in a plug for a starving author.

Comments
Leave your comments under tab "Contact Us."