Updated
Quotes
Everything will be okay in the end . If it's not okay, it's not the end. ~John Lennon

Riddles
1: With pointed fangs I sit and wait; with piercing force I crunch out fate; grabbing victims, proclaiming might; physically joining with a single bite. What am I?

2: What do you call a bear without an ear?

3: Where is the ocean the deepest?

4: What did zero say to eight?

Answers below.


Sandhill Cranes
Thoughts and Opinions traveled to southern Colorado to witness the migration of the Sandhill Cranes from Arizona and New Mexico to parts of Idaho, Montana, and Canada breeding grounds. The birds are programmed to stop at certain places on their travels north for the summer and south for the winter. One place is Monte Vista, Colorado which is a staging area where smaller groups gather to make a bigger flock, sometimes in the hundreds. They stop again for a rest and food as they go north at Eckert, Colorado where they are greeted with a Sandhill Crane festival.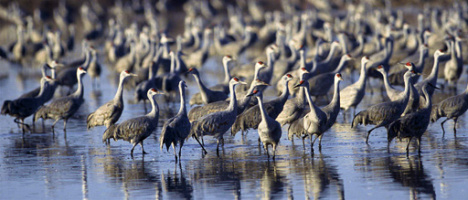 On the first day we saw five Sandhill Cranes at 50-90 yards away. The second day we we saw a bigger flock of 40-65 birds. It is hard to count them because they won't stand still. At the greater distance of the second day we could not see the distinctive red patch on their head.
The birds that migrate through Colorado are the largest of the North American sandhill subspecies standing 4-feet tall with a wing-span of up to 7 feet and weighing in at 11 pounds. Besides their imposing size, the birds issue a continuous, distinctive and haunting call. According to an
A
udubon Society spokesman answering questions from the spectators, the cranes wait for winds aloft. Once they get into one of those currents they can soar about 12 miles without flapping their wings. Some groups number as many 250 or more cranes.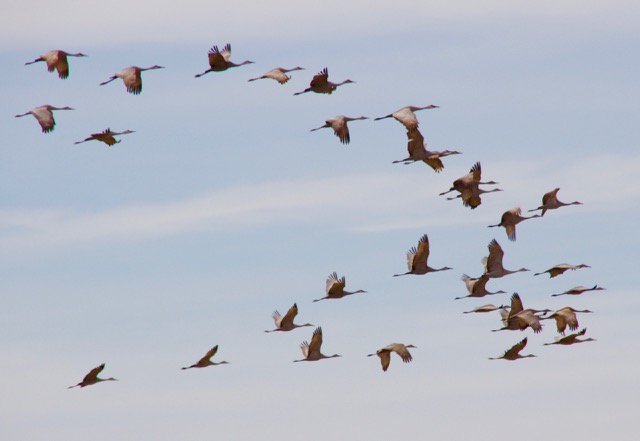 he day after the Eckert Sandhill Crane Festival, Monday, a flock of approximately 2,700 cranes took off to continue their migration north. Too bad we missed it, but our hosts for the festival sent this picture. Don't forget each bird has a wingspan of nearly seven feet.

Bald Eagles
In addition to Sandhill Cranes we also saw a mature Bald Eagle and two fully grown eaglets that did not have the distinctive white head and tail feathers they will have when they are mature. Which reminds us of an opinion that hunters should be required to not use lead bullets or shotgun shot. Raptors, such as Eagles, eat carrion and get lead poisoning. Colorado hunters have used cooper shot in fowl hunting for years with same results as lead shot. Bird rescuers, naturalists, and environmentalists are begging for laws to prevent long and painful deaths of wildlife.

Answers to the Riddles
1. A stapler
2. A "B'
3 .At the bottom
4. Nice belt

Famous Lost Words
40 percent of MacDonald's profits come from selling Happy Meals
Murder in the Rockies by G. Eldon Smith is a DGR (darned good read.)