Quotes From Payton
Fan letters have touched have touched me, made me think, laugh, and moved me to act.

Football has taught me not to be led by obstructions and setbacks but instead to be led by dreams.

I'll miss the plane rides after a big win with 53 teammates standing in the aisles laughing and celebrating during the whole flight.
~Payton Manning

Update
Payton Manning announced Monday that he is retiring as an active player in the NFL after eighteen years (14 with the Indianapolis Colts and 4 years with the Denver Broncos) and all of the passing records for quarterbacks. The only quarterback to win the Super Bowl with two different teams.

On top of Manning's retirement, Payton's back up Brock Oswiller, signed with the Houston Texans. Leaving the Broncos with no experienced QB. The Texans had more salary cap room to outbid the Broncos. C.J. Anderson RB, is the center of a four team bidding war. The Broncos are not one of the four teams.

On defense lineman Malik Jackson and linebacker Danny Trevathan are either gone or as good a gone. It is no wonder Super Bowl Champions so seldom repeat.

Lindsey Vonn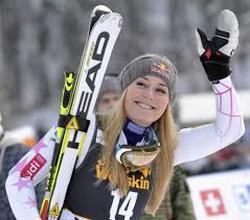 Lindsey Vonn from Vail, Colorado says goodbye to the World Cup ski season for this year. She was in first place for the overall championship, and then what appeared to be a hairline fracture turned out to be three fractures.

She said, "Today I am making the difficult decision to end my season and leave the World Cup circuit due to an injury I suffered last Saturday. Because I am currently leading the Overall World Cup standings, this is one of the toughest decisions of my career. After the Super Combined on Sunday, I went to Barcelona where more precise MRI and CT equipment was available and scans were performed on Tuesday morning. Those images showed that there was not just 1 hairline fracture, but in fact 3. Further damage to any of the fractures could result in a serious surgery that would risk my future in ski racing. With the World Championships in St. Moritz next year and the Winter Olympics in South Korea the following year, I cannot take that risk."

Excerpt from Murder in the Rockies
"Uncle Lee is taking bets on the trial."
"Betting for me or against me?"
"Everybody wanted to bet that Mr. Conway will be found guilty, so to make the odds come out his way, Uncle Lee is making all the bettors pick whether Conway will hang or go to jail for life."
"You tell Uncle Lee that a wise man will make all the bets he can that Will Conway will be found innocent. I guarantee it."

Coyle squinted as he walked out into the bright sun. He wished he were as confident as he sounded. He hoped Uncle Lee would not end up losing a lot of bets based on Coyle's bragging. On the other hand, Will Conway had a lot more to lose than Coyle did. Coyle remembered the old saying, "You bet your life," and his stomach felt a little squeamish. He didn't like that bet, even in a gambling town like Denver.


Adolph Coors
Adolph Kohrs was born in Barmen in Rhenish Prussia on February 4, 1847. Adolph was apprenticed for a three-year period at a brewery and worked there after the apprenticeship to pay for the training. Then he worked at various German breweries until 1868. In 1868 he came to the United States as an undocumented stowaway. Some time, but probably at New York immigration, Adolph's name changed from Kohrs to Coors.

He moved from New York to Chicago. In Chicago he worked in various odd jobs until he caught on with a brewery. Coors became foreman at the brewery in a few months and worked there for three years. He moved to Denver and with a partner started a brewery in nearby Golden, Colorado in 1872. In a short time Coors bought out the partner and Adolph Coors Golden Brewery was born.

The Coors Brewing Company managed to survive Prohibition relatively intact. The brewery itself was converted into a malted milk and near beer production facility. Coors sold much of the malted milk for the production of candy at the Mars Company. However, Coors and his sons relied heavily on their porcelain company as well as a cement and real estate company to keep the Coors Brewing Company afloat. By 1933, after the end of Prohibition, the Coors brewery was one of only a handful of breweries that had survived. In 2005, Coors was rated the third largest producer of beer in the United States.

Unfortunately Adolph did not live to see the ultimate success of the brewery. At the age of 82, Adolph Coors committed suicide on June 5, 1929, when he jumped to his death from a hotel window in Virginia Beach, Virginia. Nobody can say why another person commits suicide but speculation is that he was depressed due to Prohibition adversely affecting his business.

In Conclusion
Telluride is where billionaires build/buy homes to get away from the millionaires in Aspen. ~Marilyn Slee

Comments
Leave your suggestions and questions in the "Contact Us" Tab. Thank you.