Quotes
Success is not the key to happiness. Happiness is the key to success. If you love what you are doing, you will be successful. ~Albert Schweitzer

Success is how high you bounce when you hit bottom. ~George S. Patton

UPDATES
Patriots at Broncos
Cardinals at Panthers
Sorry: Chiefs, Seahawks, Packers, Steelers

Denver Water
On a Bronco Sunday, it has been shown by the Denver Water Department, water usage varies according to what is happening at the game. Halftime flushes increase and water consumption spikes. Also, a spokesperson for King Soopers grocery chain said, "If you're not a Broncos fan and want to go to the grocery store when it's not busy, go during the Broncos game." Additionally, a ski operator from a close-in area, without giving out numbers, said that Denver skiers try in to get in their runs on game day mornings and dash home in time for the kickoff.
"Try to hold it Sam, it's almost halftime."

Common Sense
If you don't have a sense of humor you probably don't have any sense at all.
A good time to keep your mouth shut is when you're in deep water.

Early Denver's King of Swindle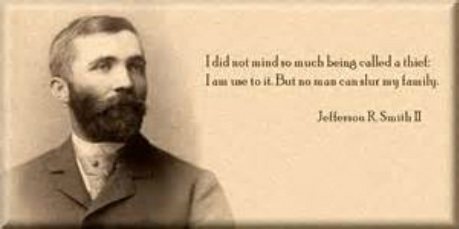 In Denver in the late 1870's Smith came up with his ingenious "Prize Package Soap Sell" swindle, whereby he could take money from a large crowd. It was from this scam that he earned the nickname of "Soapy." The con began with Smith setting up a keiser (a suitcase on a tripod stand) on a busy street corner. In the suitcase would be piles of ordinary soap wrapped in plain paper. As curious passers-by stopped to look, he would begin to wrap some of the soap bars with paper money, ranging from one dollar up to a hundred. Re-wrapping in the plain paper, he would appear to mix the money wrapped bars in with the others and sell the soap bars. In the "crowd" Soapy would always have a "shill," quick to buy a bar of soap, happily opening it to find a money-wrapped bill. The crowd was then anxious to buy their own, which, of course, held nothing but a 5¢ cake of soap. For the next two decades, Smith continued the swindle with great success.

He later moved into larger scams with a crooked gambling hall named the Tivoli Saloon. He made the saloon available to local ministers on Sundays to hold their services. Which to some is another kind of scam. Anyway, it earned Jefferson the nickname of Robin Hood of the West. Hardly an appropriate label for Denver's historic swindler.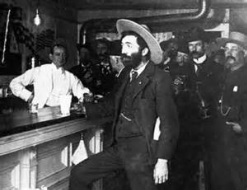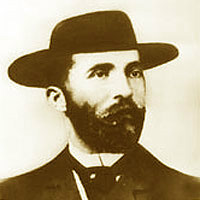 A gambler is one who teaches and illustrates the folly of avarice; he is a non-ordained preacher on the vagaries of fortune and how to make doubt a certainty. He is one who, in his amusements, eliminates the element of chance; chance is merely the minister in his workshop of luck; money has no value except to back a good hand.

- Jefferson R. Smith


Colorado in Space
Sierra Nevada Space Systems of Louisville, CO is one of three companies to be awarded a share of a multi-billion dollar NASA contract to ferry supplies to and from the Space Station beginning in 2019.

Sierra Nevada intends to use the uncrewed Dream Chaser cargo vehicle for the guaranteed six missions. The value of each mission will depend on the cargo carried. Dream Chaser has the advantage of being the only vehicle that has successively come back to earth and landed safely on a landing strip. The Dream Chaser can dock with the space station in multiple ways. It can be ready to unload its cargo in Florida within hours of leaving the space station. The other two companies have splash-downs in the ocean, delaying getting space experiments to labs when time is critical.

Dream Chaser will continue to be built by United Launch Alliance of Centennial, Colorado.

Comments
Please leave you comments in the Contact Us section in the menu above.