Update
Colorado Avalanche Hockey
A one goal (Tyson Barrie's third) game until Minnesota scored in the last five minutes to force OT. John Mitchell scored a sudden-death overtime winner. Avs Win!
Lake Louise, Alberta
Lindsey Vonn won both Downhill races and the a Super G to sweep the weekend Woman's World Cup races.
She now has seventy World Cup wins, a career record. Skiers are now calling the resort... Lake Lindsey

Opinion
What will it take? What will cause Congress to pass reasonable gun control legislation? What will persuade Americans that more and more guns does not guarantee their safety? An epidemic of gun violence has not changed the minds of the NRA and their supporters. What will it take? ~ G. Eldon Smith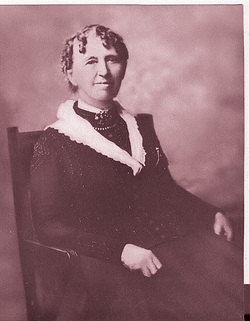 Pioneer Woman...Colorado History

Mary Cawker came to Colorado from Wisconsin in a covered wagon after her husband had died ten years earlier. Mary worked as a cook for the wagon train.
One colorful legend tells how she frightened off a group of hostile Indians by yelling, waving her skillet and moving her false teeth in and out of her mouth.
Mary first settled in present-day Central City, then called Mountain City. She and another woman, Martha Maxwell bought a lot and had a house built to function as a boarding house. Mary bought Martha's share of the house, and soon after sold the house. She used the money to buy a house from
Samuel and Elizabeth Brantner.
The Brantners had built a two-story log home outside Denver/Auraria in late summer 1859, which they called Four Mile House. Wayside inns or taverns were traditional along the nation's roads, catering to the needs of the public and marking the distance to a destination point. The Brantner home was actually five miles from Denver. The distance from Four Mile House to Denver was measured at the junction of the Cherokee Trail and the cutoff to the Overland Trail, which later became 14th and Grant streets in today's Denver.
Mary turned the Four Mile House into a successful business. She made the house into a rest stop for stagecoaches and others passing through to Denver. The rest stop offered travelers a place to roll out their bedrolls, clean up, get a shave, and have a warm meal - all for $1 a night. The Four Mile House still stands in a park in what is now considered central Denver. It is thought to be Denver's oldest standing building.
Thughts On Good Manners
The socialIy refined never fish coins out of public toilets, especially if other people are around.
It is considered tacky to take a cooler to chuch.
If you have to vacuum the bed, it's time to change the sheets.
Football games were never meant to be observed by sober people.

Shopping Tip
Looking for the perfect gift for a history buff or a mystery fan? Murder in the Rockies is a historical mystery about Denver in the 1890s. The book can be found in fine book stores and online at retailers like:

http://www.amazon.com/Murder-Rockies-Andrew-Coyle-Eldon/dp/1938467701/ref=sr_1_1?s=books&ie=UTF8&qid=1406579112&sr=1-1&keywords=murder+in+the+rockies&dpPl=1#reader_1938467701
Just Wondering
Should vegetarians eat animal crackers?
If the cops arrest a mime, do they tell him he has the right to remain silent?
Why is the word abbreviation so long?
Why doesn't glue stick to the inside of the bottle?
Is it possible to be totally partial?
Comments
Please leave your Thoughts and Opinions in the "Contact Us" section listed in the menu above.