Quotes
Health is not a condition of matter, but of Mind. ~ Mary Baker Eddy
Hearty laughter is a good way to jog internally without having to go outdoors. ~ Norman Cousins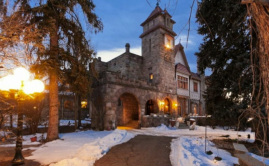 Colorado's Historic Role in Good Health
By the late 1800s, Doctors believed Colorado's year-around sunshine, dry climate, and fresh air was the best treatment for consumption (tuberculosis.) Doctors recommended Colorado rest for their TB patients.
Colorado had a reputation for trying to finding a cure for TB.
Sanitariums sprouted in Denver and across the state,
Because of the number of people with TB and their families who came to Denver for their health, it was nicknamed the "World's Sanitarium."
Montclair
was originally developed as a small suburban community east of
Denver
. The land was purchased and developed by the Montclair Town and Improvement Company in 1885. One of its founders, Matthias P. Cochrane, originally came from Montclair, New Jersey and named the new community in its honor. The other founder, Baron Walter von
Richthofen
, was a German nobleman and uncle to
Manfred von Richthofen
, the celebrated World War I flying ace known as the 'Red Baron.' The community was originally designed to attract wealthier residents who were turned off by Denver's "400 saloons and forty Market Street bordellos."
Richthofen built his own home to resemble the castles in Germany. (see picture above) Richthofen's castle stands in modern day Montclair as a historic landmark. Richthofen also built a TB a sanitarium in Montclair with lots of open air for the patients. The sanitarium was built high enough off of the ground to have space below it so that the cows of Richthofen's dairy could walk under it, The methane from the cows was thought to be good for the TB patients.

C
ynthia Stout, a history scholar, asserted that by 1900 "one-third of Colorado's population were residents of the state because of tuberculosis, either as patients or patients' families. Thankfully that is no longer true.

Ski News
This past Thursday, Arapahoe Basin and Loveland Ski Area both opened for the ski season. Next weekend Copper Mountain and Keystone Resort will open for their season. Many, if not most, of the other areas plan to start the season two weekends from now, if the snow comes.

Lindsey Vonn came back from Europe and pronounced she is fully recovered from her injury from last year and she is anxious to get started for this season. Vonn is a little disappointed that her home ski area, Eagle-Vail, has not been able to open yet. Lindsey already has the most World Cup wins of any female skier. She was considering training at nearby Copper Mountain but Copper is scheduled to open until Tuesday, November 24. Vail is hoping to open November 20.

Update More snow in the mountains from 11/11 storm. May help many ski areas open thier season before they planned.

Fun time
As the apprentice Juggler juggling eggs said to the spectator, "The yoke is on you."


Light travels faster than sound. This is why some people appear bright until you hear them speak.
What do you get when you cross poison ivy with a 4-leaf clover?
A rash of good luck.
If all is not lost, where is it?
Q: What do a Raiders fan and a bottle of beer have in common?
A: They're both empty from the neck up.
When you're finally holding all the cards, why does everyone else decide to play chess?
Murder in the Rockies
Murder in the Rockies is about a young lawyer who came to Denver in 1893 and takes the murder case of a rancher charged with murdering a miner. Exciting, thrilling, and at times humorous and romantic!

Murder in the Rockies is available at fine book stores and at
electronic retailers like Barnes and Noble:
http://www.barnesandnoble.com/w/murder-in-the-rockies-gary-e-smith/1114675164?ean=9781938467707