Quotes
My time at the Denver Public Schools taught me there is no harder, or more important, job than being a teacher. ~ Senator Michael Bennett

We were living in Denver, Colorado, and I was teaching high school. I asked the kids to write a short story, so I thought I should write some myself. ~Adrian McKinty

Bad News Bears
Colorado Parks and Wildlife tags mark a bear's first incident of invading human space. If a tagged bear comes back a second time, Wildlife Personnel must euthanize the animal. A tagged sow and her two cubs have been hanging around a Boulder neighbor for weeks and becoming bolder. The neighbors cared about the bears and tried to protect them.

Bear Number 317, the mother bear, was tranquilized and euthanized, as required by law. The two cubs had been weaned. They have a fair-to-good chance of survival in the wild. What if they had not been weaned? Give the mother another chance? Just because the cubs were weaned, doesn't mean they had been taught how to survive in the wild. On the other hand were they being taught that the city is a good/easy place to find food. The cubs were tagged and will be relocated. The tags mean they have been given a second and last chance. Will being tagged as youngsters give them a disadvantage if they come to town as adults?

Fun with words
1. Use the letters in new door to make one word.
2. The word "listen" contains the same letters as what word ?
3. What is the only word in the English language with three consecutive double letters ?
4. Once a zulu met a zulu in zulu land. Said the zulu to the other zulu how many z's in that?


More Bad News
An English Bulldog was attacked and killed in a backyard in Lafayette, CO, a town northeast of Boulder, and a little further away from the mountains, the natural habitat of bears and mountain lions. Claw marks indicate the predator had three inch claws.The mauling took place between 11:00 A.M. and noon in a yard fenced in by a six high wooden fence. "It was likely a black bear or mountain lion," said Dept, of Wildlife Rangers.

Did you know?
On the average, right-handed people live 9 years longer than their left-handed counterparts.
Smokers are likely to die an average six and a half years earlier than non-smokers.
(I'm glad I'm not a left handed smoker!)

What do frogs order when they go to a restaurant?
A normal person will die from total lack of sleep sooner than from starvation. Death will occur about 10 days without sleep, while starvation takes a Few weeks.


Answers
1. "one word" is the answer
2. silent
3. bookkeeper
4. There are no Zs in "that"

Comments
Leave your comments, questions, and suggestion in Contacting Us in the menu above. Really, we would like to hear from you...and you, ..and you.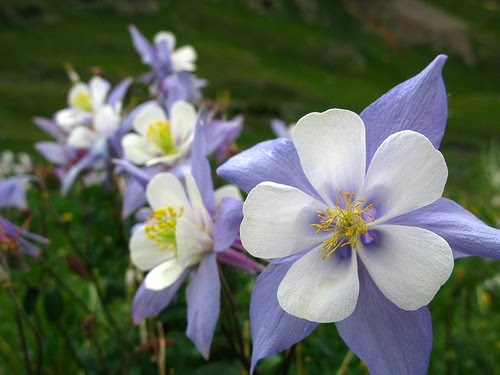 Columbine, Colorado State Flower.