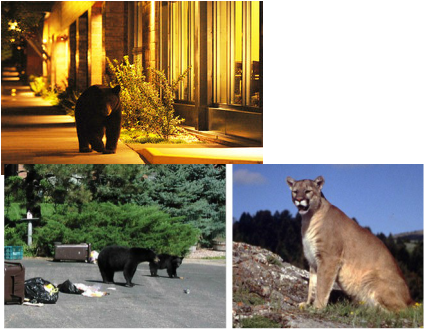 Quotes

Bears are very nice, as long as you are nice to them.
~Karl Lagerfeld

Wildlife in Autumn
Elk come to lower attitudes to avoid the harsh winters of the high country place where they spend their summers. While Estes Park at 7,255 feet is not low, to the elk herds that winter there it is a winter resort. Thus local Estes residents make the best of having these uninvited guests by putting on the "Elk Fest" Oct. 4-5.

A former college roommate who now lives in Estes Park and has worked as a volunteer in Rocky Mountain National Park for years, gave us a guided tour of the park. We saw a large bull elk and his harem of about 30 cows and caves. We also heard the cry or bugle of another bull far away as he tried to call together cows. The bugle can not be described. One person in the crowd called it "weird." I guess that is about I close I can come.

Colorado Wildlife representatives warn, "Don't go to close to the animals. If the animals behavior changes you are too close."

Bears on the other hand, hibernate and must fatten up in autumn to survive their long winter sleep. This year much of their natural food has not been as plentiful as is it in normal weather conditions years. Results---

In Aspen, the hardest-hit town, police have received more than 460 calls for help dealing with bears since
July 1, including 15 during one 24-hour period last week. Wildlife officials say the bears are not only comfortable with humans, but are also teaching their cubs to scavenge for fried chicken and candy instead of acorns and berries. Bears aren't dumb. I prefer chicken and candy over acorns and berries any day.

So wildlife officials are begging anyone who encounters a bear in an urban setting to be mean to it: Shout, throw rocks -- anything to make the animals associate people with fear and discomfort instead of greasy treats. ~Wall Street Journal

Mountain Lions are also coming to places where they are not normally seen as they follow deer and other wildlife to their winter homes.

You can't have your cake...Department
Hate to see summer end. Love the colors of autumn. Just when the fishing gets good, then the weather is too cold to fish. Don't need to mow the lawn, shovel snow off of the sidewalk instead. Love the change of seasons but I wish summer would never end. What can a person do?

What they are saying
Here are some reviews of Murder in the Rockies as seen in Amazon

This was an entertaining and informational (!) book to read if you're a fan of historical and western fiction, which I am. From the moment it starts with an action scene to the very last page, it's hard to put down. The author's use of dialogue compares favorably with that of Elmore Leonard, and moves the story along at a good pace. His main character, Andrew Coyle, is believable and likable--you really want him to succeed. The mystery is sustained well throughout the story, and the descriptive settings add just the right notes of realism. I'm glad the next book is coming, and I look forward to it! ~Susan Freeman, author

I found it hard to believe that this is G.Eldon Smith's first novel. His concise writing style moves the story along briskly, yet provides enough period details that I felt I was visiting 1890's Denver. The main character, Andrew Coyle, is a likable young man who headed west to avoid becoming part of the family firm of Philadelphia lawyers. His adventures as a "tenderfoot" provide humor. I also enjoyed the secondary characters, especially Chop Chop Charlie. The murder mystery plot is mysterious almost to the end of the book. There's even a little romance. All in all, I found Murder in the Rockies to be a very worthwhile read. I'm left with only one major mystery-will there be a sequel? I most certainly hope to see one ~Pat

Yes, there is a sequel, Two Miles High and Six Feet Under looking for a publisher.

Thought of the day
Whenever I find the key to success, someone changes the lock.

Comments
Please leave your comments in the section "Contact Us" in the menu above.