Quotes
Birds have wings; they're free; they can fly where they want when they want. They have the kind of mobility many people envy.
~Roger Tory Peterson

Happier Times
The last few weeks this blog has concentrated on two murder trials and capital punishment. As a novelist, I write murder mysteries.(Example: Murder in the Rockies excerpt below) I would never write something as horrible as these two cases because nobody would believe them, too unrealistic. It is time to return to happier times...beautiful Colorado's nature and wildlife.

Greater Sage Grouse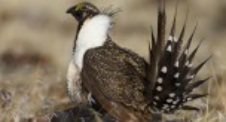 Sagebrush is the most widespread vegetation in the intermountain lowlands of the western United States, Greater Sage Grouse are a striking and charismatic bird that derives their name, food and shelter from the sagebrush on which they depend.

The bird experienced a 50 percent decrease in breeding males in the United States. The Agriculture Secretary has funding for a plan for saving the greater sage grouse. A $211 million initiative which will run through 2018. The Agriculture Department pays ranchers in Colorado and 15 other western states to make improvements on their property to make it more suitable for grouse.

Sage Grouse are totally dependent on sagebrush-dominated habitats. Sagebrush is a crucial component of their diet year-round, and Greater Sage Grouse select sagebrush almost exclusively for cover. Their habitat and cover requirements are inseparably tied to sagebrush. Sage Grouse are the charismatic ambassador for the Sagebrush Sea, a little known but critically important western landscape that supports hundreds of fish and wildlife species.

Is the plural of Grouse...Grice?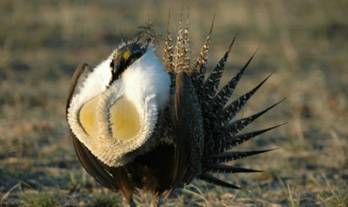 Murder in the Rockies Excerpt:

Chapter 2

Coyle spent the day sightseeing. In a neighborhood called "Millionaires' Row" he stopped a woman wearing a nanny's uniform of a starched white hat and apron who was pushing a pram. A four or five year old boy followed her, but was in no hurry to keep up and definitely not paying attention to anything she had to say.

"Excuse me miss, which way to where they are constructing the State Capitol building?" Coyle inquired.

Nonchalantly she pointed south, "Over that way a couple of blocks."

Coyle observed that people can not give directions without pointing.

She turned to the youngster playing in the street, "Master Wilford, watch out for horses and stay away from those horse apples," she said in her nanny voice.

Then she turned back to Coyle and continued. "You're not from around here are you? Did you come here to see the hangin'?"

"And what hanging would that be?"

"That horrid Conway chap what murdered Mr. Defler.


Heard on the Street
He who angers you, controls you!

If Bill Gates had a penny for every time I had to reboot my computer...oh wait, he does.

Change is inevitable, except from a vending machine.

If Barbie is so popular, why do you have to buy her friends?

Comments
Please leave your comments in the section below.