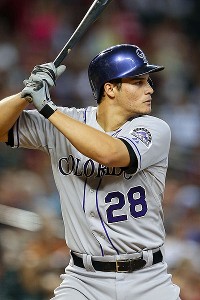 Up Date
Nolan Arenado hit an in the park homerun to lead the Rockies to a 7-3 come from behind win over San Francisco, Sunday. Tuesday he hit a triple off of the scoreboard to give the Rockies a 4-3 win over second place Diamondbacks. Both games the Rockies were behind until Arenado took his last at bat.
If the voting was today, how could they not pick Arenado as Most Valuable Player?
Wednesday Baseball
Arizona exploded for (can you believe this) a 16-5 win over the Rockies. D-Backs scored 10 in the 4th inning
Quotes
"Poverty is an anomaly to rich people. It is very difficult to make out why people who want dinner do not ring the bell."
–
Walter Bagehot
, English economist (1826-1877)
"The man of great wealth owes a peculiar obligation to the state because he derives special advantages from the mere existence of government."
–
Theodore Roosevelt
, U.S. President (1858-1919)
"We can either have democracy in this country or we can have great wealth concentrated in the hands of a few, but we can't have both."
–
Louis Brandeis
, U.S. Supreme Court Justice (1856-1941)
Baby Doe Tabor
The story of how
Horace Tabor,
the richest man in Colorado and
Elizabeth McCourt Doe,
the prettiest girl
,
.met and fell in love has been told in literature and opera. We will concentrate on rags-to-riches parts of their tale..
Baby Doe
and
Horace Tabor
married publicly on 1 March 1883, just two months after Tabor had divorced his first wife, Augusta. Horace was 52 and Baby Doe 28, and she claimed to be only 22. The marriage took place during Tabor's brief 30 day tenure as a US senator, at in
Washington, DC
. At her wedding in Washington, she wore a white satin dress that cost $7,000 and the $90,000 necklace known as the "Isabella" necklace.
The couple returned to Colorado, where they took up permanent residence in a Denver mansion located at 1260 Sherman Street. The Tabors even kept Peacocks in their yard as decorations. Baby Doe was snubbed by Denver socialites, from whom she received neither visits nor invitations.
Horace Tabor, built the Tabor Grand Opera House at 16th and Curtis Streets. The theater was up to date in every way.The building and furniture cost between $700,000 and $800,000. It changed Denver from what had been a mining camp on the prairie twenty-five years before to what was then a cultural center. At the opening of the Tabor Grand, Baby Doe gave Horace a watch, a watch chain, a fob which she held after his death as the only item of value left from their millions..
The repeal of the Silver Purchase Act in 1893 meant the price of silver dropped drastically. The Tabors sold their mansion and belonging to pay the mortgage. The panic of 1893 wiped out their riches.They lived in poverty until some of Horace's friends got him the Post Master of Denver job. He died a year and a half later leaving Baby Doe penniless. There is a legend that on his death bed Horace told Baby Doe to hang on to the Matchless Mine. The legend is likely untrue, but Baby Doe did die in a shed at the Matchless which at that time belonged to someone else who let her live there out of charity, She died on the floor of that tiny shack either by freezing or a heart attack.
Please leave your comments in the form under the "Contact Us" tab in the menu above.