Quotes
A hot dog at the game beats roast beef at the Ritz.--Humphrey Bogart

They say hot dogs can kill you. How do you know it's not the bun? --Jay Leno

I'm more American than apple pie. I'm like apple pie, with a hot dog in it. --Stephen Colbert

Why do they sell hot dogs in packages of ten but hot dog buns in packages of eight? --Jim Butcher

Hot Dog Vendor Facts
So you're thinking of being a hot dog vendor at the ball park this season. Get into the games for free, plenty to eat, meet some nice people in between pitches. Have you considered these facts (based on averages).
A hot dog vendor's bin when it is fully loaded weighs forty pounds. The average vendor walks 4-5 miles/game.
On the average each vendor is expected to sell 150 hot dogs per a baseball game. Do you know how many hot dogs Americans eat during baseball season, Memorial Day to Labor Day? Seven Billion! That does not leave much time for vendors to eat a hot dog or watch the game.

Helen Hunt Jackson
Helen was described as "the most brilliant, impetuous and thoroughly individual woman in her time." She rose above personal tragedy and became one of the most successful writers of her day. Through her dedication to Indian reform during the last five years of her life, she wrote herself into American history.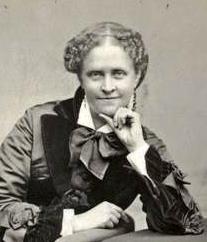 Helen Helen Maria Fiske
was born in Amherst, Massachusetts, October 15, 1830. Helen's father was a
minister
, author, and professor of Latin, Greek, and philosophy at Amherst College. By the time she was 17 both of her parents had died.
She became friends with
Emily Dickinson,
also from Amherst, who may have influenced Helen to begin her writing career as a poet. Their friendship continued during their whole lives, but few of their letters have survived.
At 22, Helen married U.S. Army Captain
Edward Bissell Hunt
. They had two sons, one of whom,
Murray Hunt
(1853–1854), died as an infant. A second son
Warren
age 10 died of diphtheria . In 1863, her husband Edward was killed in an accident occurring during an experiment with one of his own inventions. Helen had lost both parents, two sons, and her husband.
In the winter of 1873–1874 she was in Colorado Springs, Colorado at the resort of Seven Falls, seeking rest in hopes of a cure for tuberculosis. While in Colorado Springs, Hunt met
William Jackson
, a wealthy banker and railroad executive. They married in 1875 and she took the name Jackson, under which she was best known for her later writings.
She dropped her pseudonym H.H. and started writing books concerning the mistreatment of American Indians. In the first book published under her own name,
Helen Hunt Jackson
, she condemned state and federal Indian policies. She recounted a history of broken treaties.
A Century of Dishonor
(1881) called for significant reform in government policy toward Native Americans.
Ramona
was a novel in which the main character was an Indian who was mistreated by the government. Ms. Jackson became known as an activist for American Indian rights. At that time standing up for Indian rights was not popular.
When Helen Hunt Jackson died in August 1885, her husband, William Jackson had her buried near Seven Falls close to Colorado Springs. Her remains were later moved to Evergreen cemetery in Colorado Springs.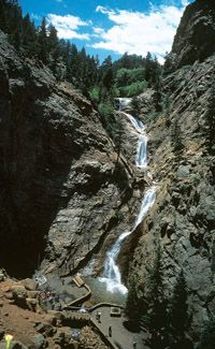 Seven Falls, Colorado Springs, Colorado

Rockies 2 Diamond Backs 1
On their third try the Colorado Rockies finally won a game in Phoenix. Now it is onward to San Diego

Comments
Suggestions, Questions, and comments should be directed to "Contact Us" in the Menu above.