Update
Rockies take Game 1 from the Dodgers in a 3 game series. 10-7 lots of hitting.

Quotes
Life is the flower of which love is the honey . – Victor Hugo

That which is not good for the bee-hive cannot be good for the bees. - Marcus Aurelius

Is it realistic to believe the notion that insecticides kill 'nasty insects', whilst conveniently leaving alone the 'nice' insects, like bees, butterflies and ladybugs? -www.buzzaboutbees.net

Decline of Bee Populations
Last week's blog was about the birds. This week we will discuss the bees.

from buzzaboutbees
Pollinator populations are declining at alarming rates worldwide, and that should concern all of us. Pollinators, like bumble bees, are responsible for one in every three bites of food we eat, so without them our whole food system would be in serious trouble.
Over a decade of research has shown that neonicotinoid, or neonic, pesticides are a contributing factor in pollinator decline. But the Environmental Protection Agency has done nothing to limit or regulate their use. We need the EPA to act NOW to protect pollinators, before it's too late! In 2016, the EPA confirmed that neonics are highly toxic to bees and concluded that one of the major uses of neonics, as a coating on soybean seeds, provides little to no benefit to overall production. So why delay taking the next step to protect bees and limit nonessential uses of neonics?
Remember to add
ewg@ewg.org
to your contact list.
EWG's mission is to empower people to live healthier lives in a healthier environment. EWG is a non-profit and non-partisan organization.
Our Thoughts
It is unlikely the EPA will be able to do anything constructive now that the new administration is threatening to cut the agency's budget to the point the EPA will essentially be powerless.
from Sierra Magazine
Unlike honey bees (which are native to Eurasia), they're not domesticated and don't build hives. Although humans do not manage them, wild bees still provide more than $3 billion dollars in fruit pollination services to U.S. farmers each year.
Taylor Ricketts
, a bee expert at the University of Vermont, believes this relationship between agriculture and wild bees makes farmers natural allies in the effort to protect these imperiled pollinators.
This unsettling mismatch between pollination needs and agricultural practices is due, in large part, to agriculture itself. Habitat loss and pesticide use associated with agriculture are driving bee declines. Other drivers include disease, urbanization, and climate change.
Now, Ricketts wants to empower farmers to address this contradiction and make bee-friendly decisions with a
web app.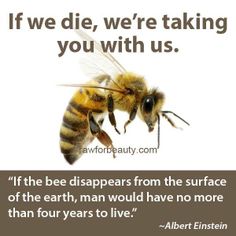 Chuckles
Toto, We're Not in Cans Anymore…
What did the Tin Man say when he got run over by a steamroller?
"Curses! Foil again!"
Submitted by Paul Stewart, 
Richmond, Utah


Comments
Please leave your comments in the form under "Contact Us"