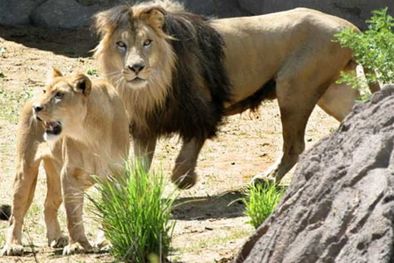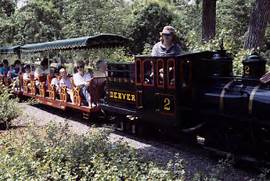 Denver Zoo
Denver Zoo is home to more than 4,000 animals representing 650 species including African lions, Asian elephants, Komodo dragons, Western lowland gorillas as well as birds, aquatic mammals, and assorted reptiles. For visitors and local residents it is a highly recommended place to visit.
Admission gates open 9 a.m. to 5 p.m. Grounds close at 6 p.m.
Adults (Ages 12-64) - $17
Seniors (Ages 65+) - $14
Children (Ages 3-11) - $12
Kids 2 and Under - FREE
Train & Carousel Pricing: Single Ride - $2 (Members),
$3 (Non-Members)
10 Ride Punch Card - $15 (Members),
$20 (Non-Members)
Zoo History
The
Denver
Zoo was founded in 1896 when an orphaned American black bear cub named Billy Bryan – short for William Jennings Bryan - was given to Denver Mayor
Thomas S. McMurry
.
Alexander J. Graham
, who managed City Park, started the zoo with this animal. Other animals at the young zoo included native waterfowl at Duck Lake, native
prairie dogs
,
antelope
which roamed the park, and a flock of Chinese pheasants, which later populated the eastern plains of the state.
The zoo was a motley menagerie until 1906, when
Mayor Robert W. Speer
declared that the zoo's "prison bars can be done away with" in favor of "concrete rocks, waterfalls, trees, etc." Speer hired the city's landscape architect,
Saco R. DeBoer,
to draw up the plans for his renovation and appointed
Victor H. Borcherdt
as zoo director.
Hidden moats replaced cage bars, and native plants and an artificial stream enhanced the natural look. The two main exhibits originally housed polar bears and grizzly bears. Bear Mountain established Denver as one of the foremost among American zoos.
When
Mayor Quigg Newton
was elected in 1947, Newton hired DeBoer, the architect involved with the zoo's design forty years before, to plan a rebirth. Starting with the 1950 overhaul of Monkey Island, the zoo has steadily added to and improved its exhibits.
The Denver Zoological Foundation was created in 1950, the same year that the zoo acquired its first elephant, Cookie. A Children's zoo was opened in 1951 (since replaced by Primate Panorama). A perimeter fence was built in 1957, defining the zoo as a separate area but still within
City Park
. Automobile traffic in the zoo was finally eliminated completely in 1959. Pachyderm Habitat was opened the same year, and Cookie was joined by a second elephant, Candy. Cookie came to the zoo as a baby and was a popular attraction for us kids. When Cookie died of old age I felt very old.
In the 1990s and 2000s numerous exhibits have been added and Denver Zoo has been recognized as one of the world's outstanding zoos. It is known for the natural habitats that are provided for the animals. The Denver Zoo is a "Don't Miss" place to visit.
Did you know?
Know why a room full of married people looks so empty?
There's not a Single person in it.
Know why you
shouldn't write with a broken pencil?
Because it's pointless.
You know If you see someone else eating cheese it's
Nacho Cheese.
Juno 2017
Juno
arrived
at Jupiter last summer. It's the first spacecraft to get a close-up look at the planet's poles. It's in an orbit that takes it skimming close to the cloud tops of the gas giant once every 53 days. After each close pass, the spacecraft sends a trove of data back to Earth.
Scientists weren't expecting to see cyclones at the poles. "You point a camera at terra incognita on Jupiter, and 'surprise!' you get a surprise," says Cornell University's
Jonathan Lunine,
Director of the Cornell Center for Astrophysics and Planetary Science and a member of the Juno science team.
"We're all jumping up and down with huge excitement," says team member
Fran Bagenal,
professor of astrophysical and planetary sciences at the University of Colorado, Boulder. "The results are really quite fabulous," she says. "And they're fabulous because they're not what we expected. If we just saw what we expected, it would be 'ho hum, ho hum, that's good but, you know,' ... Seeing puzzles and mysteries and getting us all excited wondering what we are seeing is more exciting."
Some of those puzzles and mysteries are pretty obscure. For example, there's some startling new data about the spectacular auroras at the poles of Jupiter — which are like the Northern Lights on Earth but much more dazzling.
Comments
Have a comment? Please leave it in the form under the "Contact Us" tab in the menu above.