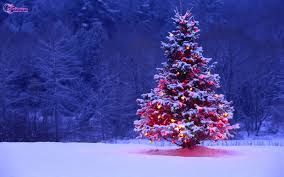 A Christmas Gift
David Jonathan Sturgeon was in bed and it was Christmas Eve 1914. The ten-year-old boy was too sick to go downstairs in his Denver home and join his family around the Christmas tree. To cheer up his son, D.D. Sturgeon decided to light up a tree outside his son's window., He dipped light bulbs in red and green paint, and connected them to an electrical wire, He brightened David"s holiday, and inspired people from miles away to come marvel at the sight of the multicolored illuminated tree.

Although there had been a few earlier outdoor decorating attempts around the country, they dimmed compared to the glowing reports provided by The Denver Post reporter Pinky Wayne, and enthusiastic city boosters of a century ago were soon touting this as the first illuminated outdoor Christmas tree. The next year, Sturgeon's neighbors decorated their trees, too, and the tradition lived on.

Reporter Pinky Wayne made sure Denver was soon in the spotlight of a national craze. D.D. Sturgeon was dubbed the "Father of Yule Lighting." Wayne organized the country's first outdoor-lighting contest in Denver in 1918, attracting hundreds of contestants. By 1919, the official city electrician, John Malpiede, had caught the fever and replaced the lights in Denver Civic Center with colored globes of red and green for the holidays and by the late 1920s, Denver had become known as the "Christmas Capital of the World." In 1945, NBC broadcast a tribute to Denver and the Sturgeon family for having created a beautiful holiday tradition.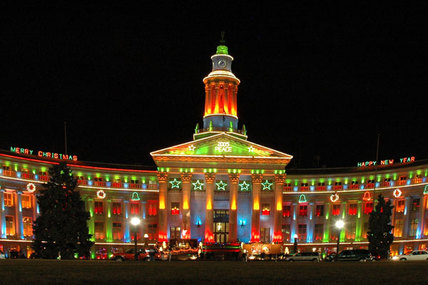 HoHo...Ho?
What did the Gingerbread Man put on his bed?
A cookie sheet

What does Santa like to eat?
A jolly roll

Where do Santa's reindeer like to stop for lunch?
Deery Queen

Why does Santa Claus go down the chimney on Christmas Eve?
Because it soots him

What do elves learn in school?
The Elf-abet!

What nationality is Santa Claus?
North Polish

Two Miles High and Six Feet Under
In time for the holiday season Two Mile's High and Six Feet Under: A Tale of Leadville Colorado
Elevation 10,152 Feet is now on sale on Amazon Kindle Books and on Barnes and Noble Nook, not to mention Smashwords which provides e-books to several other electronic retailers. Great holiday gift and there is no wrapping, and always the right size and color.

Reviews are also important. Please let the book seller know what you thought of Two Miles High and Six Feet Under with a written review, good or bad.