Quotes
"Fish come and go, but it is the memory of afternoons on the stream that endure."
~ E. Donnall Thomas

"Conservation is a state of harmony between men and land."
~Aldo Leopold

"If a tree falls in a forest and lands on a politician, even if you can't hear the tree or the screams, I'll bet you'd at least hear the applause."
~Paul Tindale

"Workable solutions for Earth are urgently needed. Saving seals and tigers, or fighting yet another oil pipeline through a wilderness area, while laudable, is merely shuffling the deck chairs on the Titanic."
― Lawrence Anthony



Greater Sage Grouse
After five years of negotiating, planning, studies and more negotiating, Fish and Game officials working with western state representatives came up with a program to save the diminishing Sage Grouse population.

At one time the Sage Grouse population numbered in the millions. Currently there are between 200,000 and 500,000 Grouse in an area the size of Texas. A large factor in the decrease in numbers has to do with less and less habitat. The plan, that has not been implemented by the Interior Department, calls for any development activities having to first obtain a permit.

While the diminishing population clearly points to a an endangered species, Interior Secretary, Ryan Zinke, has announced his department will re-look at the plan. He is confident the Sage Grouse will not be listed as endangered. His rationale for rethinking the plan is that he wants to give the western states more of a voice in setting their own standards and allow for more more gas and oil development.

The fossil fuel lobby has been against the plan, which is based on science, from the beginning. Conservationists responded with"The Interior Department appears to be laying the groundwork to unravel the careful, flexible, compromise put together following years of work," said Ted Zukoski, Earthjustice attorney..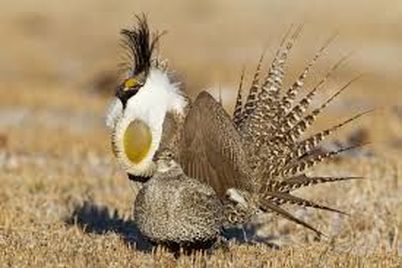 From the World of Literature.
Lead Flying (Tin Can Mysteries Book 5) Kindle Edition by Jerusha Jones. Another winner from the master of Cozy Mysteries. It is at the head of my summer reading list. Here is what Jerusha has to say about it.
"You know what's bad for business in a boutique hotel? A body in the bed. One that doesn't have enough air left in her lungs to become a satisfied repeat customer. Since the hotel owner is one of Eva Fairchild's public relations and marketing clients, creatively constructed spin and press statements are inevitable in her near future. But in her heart-of-hearts she has an even greater burden to bear." Amazon Kindle

Tickles
Why did the physics teacher break up with the biology teacher? There was no chemistry.

My dog used to chase people on a bike a lot. It got so bad, finally I had to take his bike away.

A recent scientific study showed that out of 2,293,618,367 people, 94% are too lazy to actually read that number.

Comment
Please leave your questions, remarks, and comments in the form under "Contact Us"