Update

The Chancellor's 3rd annual Aerospace Summit | University of Colorado
Thursday, March 22, 2018 - 5:00pm to 8:00pm
Where: Hyatt Regency Denver Convention Center 615 15th St. Denver 80202
Program: CU Boulder Chancellor Phil DiStefano invites CU Advocates and guests to gain insight into CU's Laboratory of Atmospheric and Space Physics' (LASP) latest venture, the International Satellite Program in Research and Education (INSPIRE)You will hear how students at CU Boulder and other global universities are influencing exploration and discovery in space. In addition, a panel of industry experts will familiarize you with the value of collaboration between international, corporate, government and universities in space exploration and discovery.
Tickets are $10, includes reception. Registration deadline: Monday, March 19 at 11:59 p.m. Walk-ups will be accepted on-site.
Quotes
"Don't tell me that man doesn't belong out there. Man belongs wherever he wants to go - and he'll do plenty well when he gets there." --
Wernher von Braun,
Rocket Engineer
"Space travel is life-enhancing, and anything that's life-enhancing is worth doing. It makes you want to live forever." --
Ray Bradbury
, Science Fiction Author
"The thing I'll remember most about the flight is that it was fun. In fact, I'm sure it was the most fun that I'll ever have in my life." —
Sally K. Ride,
First Woman to Orbit Earth on the Space Shuttle
University of Colorado Aerospace Program
The Aerospace Engineering Sciences Department has an active research program that engages faculty, postdoctoral fellows, graduate students, and undergraduate students. The Department had research awards of $15.2 million last fiscal year, more than any other department on the CU Boulder campus.
Ongoing research activities span the focus areas of the department:
Researchers are organized into four major research centers to address multidisciplinary aerospace research topics. Individual faculty also establish research laboratories to conduct state-of-the-art research.
Research Centers:
BioServe Space Technologies (BioServe)
Center for Aerospace Structures (CAS)
Colorado Center for Astrodynamics Research (CCAR)
Research and Engineering Center for Unmanned Vehicles (RECUV)
There are over 400 companies in Colorado that are involved in one way or another with Aerospace research and engineering. The CU Aerospace Department often coordinates the research projects. Among the CU and private industry partnerships we find such companies as: Ball Aerospace & Technologies Corporation, Black Swift Technologies, Blue Canyon Technologies, Braxton Technologies, Lockheed Martin Space Systems, Northrop Grumman, and Surrey Satellite Technology
It's Not Punny
The shovel was a ground breaking invention, but everyone was blown away by the leaf blower.
I bet the person who created the door knocker won a Nobel prize.
What do you call a line of rabbits marching backwards? A receding hairline.
Why didn't the lion win the race? Because he was racing a cheetah.
Sausage puns are the wurst.
Colorado's Cattle Industry
Colorado is the fourth largest exporter of fresh and frozen beef in the United States.
The National Agricultural Statistics Service reported the Colorado cattle herd at 2,480,000 head in 2014.
Today Colorado is home to 11,600 farms with cattle and calves, 206 feedlots, and 24 USDA certified slaughter plants.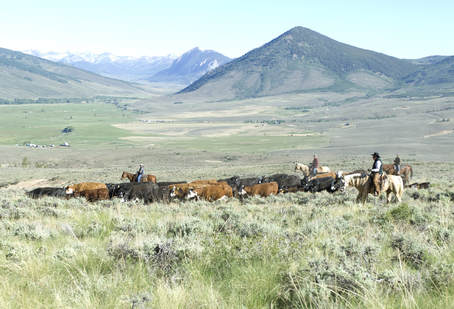 SLW Ranch — As one of the oldest family-run ranches in the country, SLW Ranch in Greeley has been managed by the Studebaker, Lamb and Witwer families since the late 1800s. At its historical peak, the ranch was one of the largest in the country, at over 22,000 acres. Listed in the National Register of Historic Places and named a Centennial Ranch by the Colorado Historical Society, SLW Ranch has been raising cattle exclusively since 1913. Amazingly, the ranch is still in operation today. It's said to be home to the oldest registered Hereford herd in the country.

Comments
Questions, comments, suggestions? Go to "Contact Us" in the menu at the top of the page.