Update
A person may get tired of tacos. The Colorado Rockies and Taco Bell have a marketing agreement which stipulates that if the Rockies score seven or more runs in a game (win or lose) the next day fans can buy four tacos at reduced prices. Other major league teams have the same arrangements. Seven runs is a fairly high, but obtainable baseball score. Taco Bell did not think it would happen very often. The Rockies have score seven or more in six of the last seven games. And there is no end in sight.

Rockies 10 Cardinals 0 Taco score in front of the home crowd. It was a good night in Denver.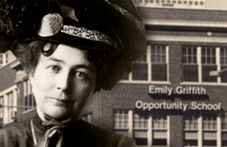 Quotes
"The educated differ from the uneducated as much as the living differ from the dead."
― Aristotle

"Try not to have a good time...this is supposed to be educational."
― Charles M. Schulz

"You can never be overdressed or overeducated."
― Oscar Wilde

"Education: the path from cocky ignorance to miserable uncertainty."
― Mark Twain

Opportunity School
Emily Griffith was born in Cincinnati, Ohio 1868. Griffith left school after the eighth grade to help support her family. At the age of seventeen, she took a job as a teacher in a sod house school in Broken Bow, Nebraska. As was the custom of the time,she lived with students' families for weeks at a time. Griffith realized that many of her students' families were uneducated and were unable to read, write, or do simple math. Parents were not able to pass those skills along to their children.

Griffith believed education was the path to a better life for the poor.

When Emily Griffith was 26, the Griffith family moved to Denver.
She taught in Denver and also served as Deputy State Superintendent of Schools.Griffith also began teaching night classes for adults. She believed that everyone deserved an education regardless of age, race, gender.,

1916 Emily's dream came true when she opened the Opportunity School!. Emily was very dedicated to her students. She gave them food and money for the streetcar, visited the ill, and worked with the police to help children in trouble with the law. The school is affiliated with Denver Public Schools, offering an alternative high school program, and is part of the Colorado Community College System.

Many students have received their GED (General Educational Development but is also referred to as a General Education Diploma) from Opportunity School. Meanwhile others have learned a skill or trade which made them job ready. Griffith retired in 1933, after 100,000 students had attended her school. That same year, the Opportunity School was renamed The Emily Griffith Opportunity School in her honor. Today the school is a technical college within the larger Colorado Community College System.
Emily Griffith Technical College seeks to tailor its programs to meet the needs of the community and the job market.

There are five major divisions or departments in which programs are divided.
1. Apprenticeship Training Division examples: Bricklayer Apprenticeship or Plumber Apprenticeship
2. College of Health Sciences and Administration examples: Medical Clerical or Dental Assisting
3. College of Creative Arts and Design examples: Event Planning or Culinary Arts
4. College of Trades, Industry and Professional Studies: Computer Networking or Real Estate
5. Continuing Education, examples: Clock Repair or Upholstery, Sewing, and Screen Printing

In addition there are over 500 classes online. There are charges for all classes, but prices are minimal.
Emily Griffith is in the Colorado Women's Hall of Fame

Chuckles and Giggles
If you saw a heat wave, would you wave back?
I'm writing a book. I've got the page numbers done.
If you think nobody cares about you, try missing a couple of payments
On the other hand, you have different fingers.
My theory of evolution is that Darwin was adopted.
Someone sent me a postcard picture of the earth. On the back it said, "Wish you were here."
Cross country skiing is great if you live in a small country.
I spilled spot remover on my dog. Now he's gone.
If you're not part of the solution, you're part of the precipitate.
My dental hygienist is cute. Every time I visit, I eat a whole package of Oreo cookies while waiting in the lobby. Sometimes she has to cancel the rest of the afternoon's appointments.

All from Steven Wright, my favorite comedian (not from Colorado but that's ok.)

Comments
Please leave your comments in the form below the "Contact Us" tab in the menu.