Leaves dancing on the asphalt dance floor
steady wind invites even more
to join the reckless waltz
that says Autumn is real
reports of winter coming are not false.
- G. Eldon Smith

National Hispanic Heritage Month

September 15 to October 15 is celebrated as Hispanic Heritage Month. There is no better place to start a study of Hispanic heritage in Colorado than the town of San Luis, Colorado's oldest continuously occupied town in the state. Some people in San Luis can trace their family back sixteen generations in the town.

Many who were interviewed for TV said, "I didn't cross the border. The border crossed me." Meaning their family moved to San Luis before there was a state of Colorado. When Colorado became a state the boundary was drawn with San Luis within Colorado and the United States.

Today, 55 million people or 17% of the American population are of Hispanic or Latino origin. This represents a significant increase from 2000, which registered the Hispanic population at 35.3 million or 13% of the total U.S. population. The population of around 750 in San Luis is largely Mexican American - Hispanic.


On April 9, 1851, Hispano farmers established San Luis, Colorado and today San Luis is the County Seat for Costilla County. Located in south central Colorado near the New Mexico border, the San Luis Valley has been home to several different groups, one of the many reasons it holds historic significance for Colorado and the nation.

San Luis is most famous for it's version of the Twelve Stations of the Cross. It was the attraction that drew us for a visit.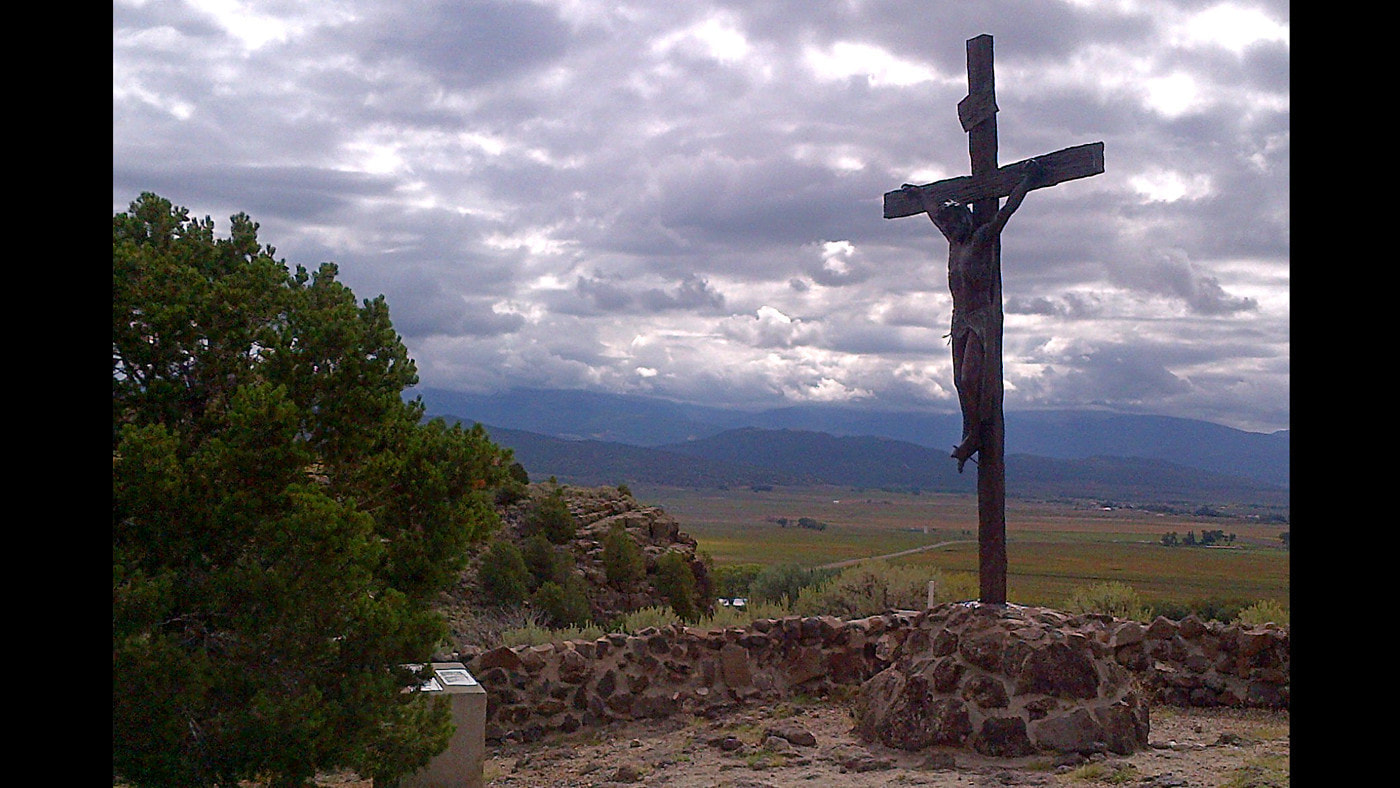 Very impressive. Each station makes one think. A very solemn walk up the mountain. Regardless of beliefs the workmanship, the scenery, and the atmosphere can't help but move you.

Launch
The long promised launch of Two Miles High and Six Feet Under occurred yesterday and the real work of novel writing began. Marketing...the dreaded chore of getting people to notice your story.

The people of Leadville, Colorado in 1895-96 build a Palace made of ice. It is the centerpiece of a winter festival. A young lawyer, Andrew Coyle, is hired to audit the books of the community festival. Upon arriving in Leadville, he finds there is more to it than that. The arrival of his wife and daughter to enjoy the celebration further complicates the situation. Eventually Coyle concedes that two heads are better than one.

Available through Barnes and Noble, Amazon, or direct from the publisher, Outskirts Press.
Outskirts Press https://outskirtspress.com/bookstore

Puns
What do trees write on in the fall? Loose Leaf Paper.
Smaller babies are always delivered by stork, the larger ones by crane.
Yesterday a clown held the door open for me. I thought it was a nice jester.

Comments
Our technician still has not solved the problem with "comments"