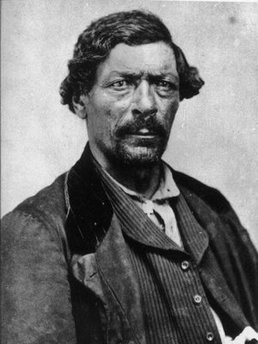 Updates
Ski conditions as of Wednesday, new storm will add fresh powder to northern mountains,
Beaver Creek 54 inch base
Breckenridge 58 inch base
Crested Butte 61 inch base
Keystone 50 inch base
Steamboat 57-73 inch base
Wolf Creek 114 inch base

Quotes
"Change will not come if we wait for some other person or some other time. We are the ones we've been waiting for. We are the change that we seek." -- President Barack Obama

"Diversity is not about how we differ. Diversity is about embracing one another's uniqueness." -- Ola Joseph

"Laundry is the only thing that should be separated by color." -- Unknown

"Do not call for black power or green power. Call for brain power." -- Barbara Jordan

Colorado History



James Pierson Beckwourth was one of the earliest fur-trappers of the Rockies, Throughout the 1820's, Beckwourth was known as a rugged individualist and a trailblazer. Born into slavery, to a slave mother and a white master, he received four years of education, and then contracted to a blacksmith for a five year apprenticeship. At age 18 he ran away

He joined the expedition of General William Henry Ashley's Rocky Mountain Fur Trading which penetrated the western wilderness. He left Ashley's expedition in 1825 and went to live among the Indians in the Crow Nation for six years. The Crows made him a chieftain and called him "Bull's Robe." Beckwourth became a mighty warrior and took part in their tribal wars and according to Beckwourth he "lifted the scalp of many an enemy."

In 1837, he grew tired of savage life, returned to civilization, and established two trading posts. Beckwourth took part in the California gold rush. He started a trading post, including a hotel. In the winter of 1854/55, an itinerant judge, Thomas D. Bonner stayed at the hotel, and on winter nights Beckwourth told him his life story. Bonner wrote it down, edited the material the following year, and offered the book to Harper & Brothers in New York. The Life and Adventures of James P. Beckwourth was published in 1856. According to the contract, Beckwourth was entitled to one half of the proceeds, but he never received any income from Bonner. Beckwourth started two trading posts in Colorado and helped in the founding of the town of Pueblo, Colorado.

Bedkmouth settled later, in Denver, Colorado. Colonel John M. Chivington, hired Beckwourth to act as a scout, for a campaign against the Cheyenne. The campaign resulted in the Sand Creek Massacre, in which the militia killed an estimated 70-163 friendly Cheyenne men, women and children, who had camped and flew an American flag and a white flag to show their status.(See My Thoughts blog for 2/4/2017 ) After that the Indians refused to trade with him, so he remained with the Army as a scout.

James Beckwourth died on the trail as an Army Scout from an uncontrollable nose bleed caused by extreme hypertension.

Tip For Authors
Charles Dickens always slept facing north. He believed this would improve his writing ability.

Men's Jockey Shorts
Why is it that men's jockey underwear are designed and made so that the fly must be opened from the right side with the right hand? Why doesn't someone make left handed jockey shorts?

Happy Ending Ski Story
Earlier this month Kellen Kinsella, 15, of Vail Valley, Colorado, accompanied by his father competed in the Seven Nations Cup, the most prestigious youth ski race. His mother could not join them because two weeks earlier she had had cancer surgery and was recovering. Kellen phoned her before the race to tell her "I'm going to win this." Kellen's father Pete gave a play by play account to the mother, Tracy, by phone during the run. Low and behold, Kellen actually did win the race. "It was crazy," he said. "I didn't believe it at first, I thought it was a prank."

Comments
Please leave your comments in the form under "Contact Us."