Updates
Woman's World Cup, Mikaela Shiffrin
Mikaela Shiffrin, of Vail, Colorado won the slalom, and widened her lead in the overall World Cup standings, Tuesday, in Stockholm, Sweden.
Colorado Avalanche Hockey
Avalanche lost to Anaheim 5-1 in California. Will the Avs record for wins stay in the teens this year? 13-32-2

Against the Law
According to: OLD WEST LEGENDS Railroad Quips
The following have been or are still actual laws on the books.
West Virginia law required that if a railroad passed within one mile of a community with 100 or more people, then it was required to build a station and stop there regularly to pick-up and drop-off passengers.
A Chicago, Illinois law once prohibited eating in a place that was on fire. After much discussion, a 1912 amendment exempted dining cars on steam trains.
Texas law once said: When two trains meet each other at a railroad crossing: each train shall come to a full stop and neither train shall proceed until the other has gone. Huh??
A New York City Ordinance prohibited the shooting of rabbits from the rear of a Third Avenue street car if it was in motion.
Believe it or not, putting salt on a railroad track in Alabama was once punishable by death.
It is considered a misdemeanor offense to throw pickle juice at a trolley in Rhode Island.
In Seattle, Washington, women who sit on men's laps on trains without placing a pillow between them would face an automatic six-month jail term.
In Wisconsin it was once illegal to kiss on a train.
In South Carolina railroad companies may be held liable for scaring horses.

Galloping Geese
Galloping Goose is a name given the odd looking contraptions which feature converted truck cab and engine with a railroad car, truck or bus.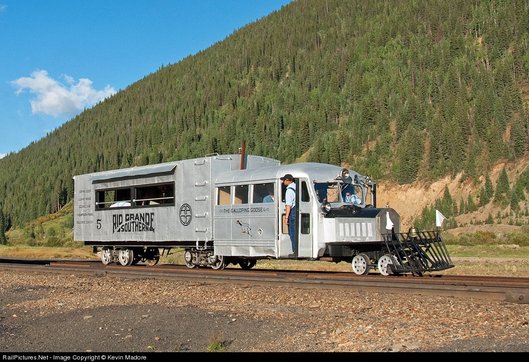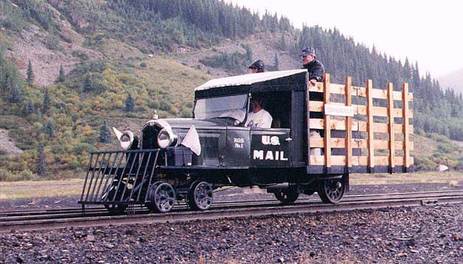 Galloping Goose referred to a fleet of seven railroad cars built in the 1930s by the Rio Grande Southern Railroad (RGS) and operated until the end of service on the line in the early 1950s.
Originally running steam locomotives on narrow gauge railways, the perpetually struggling RGS developed the first of the "geese" as a way to stave off bankruptcy and keep its contract to run mail to towns in the Rocky Mountains in Colorado. There was not enough passenger or cargo income to justify continuing the expensive steam train service at then-current levels, but it was believed that a downsized railway would return to profitability. The steam trains would transport heavy cargo and peak passenger loads, but motors would handle lighter loads.
The Goose were not only less expensive to operate, but were also significantly lighter, thus reducing impact on the rails and roadbeds. The Galloping Goose concept was also used by maintenance crews to run up and down the tracks looking for spots that needed repair.
Initially, the "geese" were painted in black and dark green. In 1935 they were all painted in a silver scheme which they retain to this day, though the style of lettering and heralds changed over the years. In 1945, #3, #4, and #5 were rebuilt with
Wayne
bus bodies (at least the front half) replacing the old Pierce-Arrow bodies. This provided more passenger seating and comfort. A year later they also received new war surplus GMC engines.
In 1950, when the railroad finally lost its mail contract (in favor of highway mail carriers), #3, #4, #5, and #7 were converted for tourist operations, and the "Galloping Goose" name was officially recognized by the railroad. Large windows were cut in the sides of the freight compartments, and seating was added. A figure of a running goose and the words "Galloping Goose" were added to the carbody doors. This service lasted only two years, and the last work of the "geese" on their home line was to take up the rails, September 1952
But the Goose never dies.
Ride the Goose!
Galloping Goose Historical Society of Dolores, Colorado plans the following schedule of excursions:
Cumbres and Toltec Scenic Railway in late July and again in late September.
Excursions are also planned on the Durango and Silverton Narrow Gauge Railroad in Late-August.
An additional run has been added in February 2017. For the first time in 60 years the Goose will run in the winter for a Durango to Cascade Canyon excursion. Tickets for Feb. 18 are $119 and for Feb. 19 $189. Tickets are going fast so Feb. 17 may be added if there is enough demand. Call 877-872-4607 for further information.
Winter X Games
Shaun White again competed in the X games in Aspen, Colorado for the first time in two years. His unbelievable tricks are now being done as other snow borders. He finished tenth out of eleven competitors, his worst finish since 2000.
Colten Moore attempted a double back flip with his 500 pound snowmobile at 92 feet in the air. This was the first time that maneuver has been attempted. Moore and another person tried the double back flip. Both failed to land properly. Moore was injured, and has had.back surgery. It will be some time before he knows if he can ride again. Several snowmobilers do single back flips, which is amazing enough to watch.
Spectators in Aspen and watching on television should be prepared to hold their breaths for long periods as they watch the X Games unfold.
Comments
Please leave your comments, questions and suggestions in the form under the tab "Contact Us" in the menu at the top of the page.