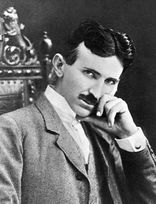 Quote
I constructed a laboratory in the neighborhood of Pike's Peak. The conditions in the pure air of the Colorado Mountains proved extremely favorable for my experiments, and the results were most gratifying to me.
Nikola Tesla

Tesla, strange name for a car manufacturing company. Unless the name Nikola Tesla is familiar to you, and then the Tesla makes perfect sense.

Nikola Tesla was born in Serbia which at that time was part of the Austrian Empire. When Nikola was nine years old his older brother was killed in a horse riding accident. The younger Tesla began having illusions the first signs of a life long battle with insanity. After receiving degrees in Electrical Engineering and Physics he came to the United States.

In the U,S. Tesla worked about a year for Thomas Edison and was one of several engineers who helped Edison perfect the inventions that Edison took credit for. Tesla left the company over a disagreement about direct electricity (DC) which Edison championed along with his financial backers including J.P. Morgan, and alternating current (AC) which Tesla made into the standard for the world. One of early successes was pardoning with General Electric to put generators at Niagara Falls to create the first power station.

In 1899-1900 he built a lab at a high point in Colorado Springs, Colorado. Tesla experimented with Earth's magnetic fields away from the crowds of New York City where he previously worked. In the Colorado Springs lab he built the world's largest known high-voltage transformer at that time the Tesla coil.

His inventions or his contributions to inventions have changed the world in which we live.
1. Alternating Current
2. Tesla developed and used fluorescent bulbs in his lab some 40 years before industry "invented" them. At the Chicago World's Fair, Tesla took glass tubes and bent them into famous names, creating the first neon signs.
3. X-rays
4. Radio, Guglielmo Marconi is believed to be the inventor of radio to this day. However, the Supreme Court overturned Marconi's patent in 1943, when it was proven that Tesla invented radio years previous to Marconi.
5.Remote Control, This invention was a natural outcropping of radio. Patent No. 613809 was the first remote controlled model boat, demonstrated in 1898.

If space permitted, the list is longer. It is sufficient to say much of Tesla's inventions have gone into building Tesla (electric) Automobiles. Aptly named.

Last Laugh
My wife told me I had to stop acting like a flamingo. So I had to put my foot down.
This is my step ladder. I never knew my real ladder.
Two men meet on opposite sides of a river. One shouts to the other "I need you to help me get to the other side!" The other guy replies,"You are on the other side."

Comments
Leave your questions, suggestions, and comments in the box for "Contact Us" in the menu above.